The top 3 alternative
ski destinations in Europe in 2023.
For centuries European skiers have flocked to the Alps for their ski holidays. However, increasing prices and overcrowded resorts have left many in search of alternative ski destinations. Fortunately for them, there are viable alternatives to the Alps in Eastern Europe that are safe, reliable, and affordable. If you're looking for ideas to spice up your ski holiday, you've come to the right place! 
In this article:
Zakopane, one of the best alternative ski resorts in Europe

Bansko, one of the most affordable and beginner-friendly ski resorts in Europe

Popova Shapka, one of the best off-piste ski resorts in Europe

Bonus: How to make your ski holiday more sustainable? 
Zakopane - one of the best alternative ski resorts in Europe
Popularly known as the 'winter capital of Poland', Zakopane is one of the most famous ski resorts in Eastern Europe. It is located at the foothills of the Tatra mountains, in the southernmost part of Poland and neighboring Slovakia's border. The Tatras are part of the better-known Carpathian mountain range that runs through Slovakia, Austria, the Czech Republic, Hungary, Ukraine, and Romania.
What can you do in Zakopane?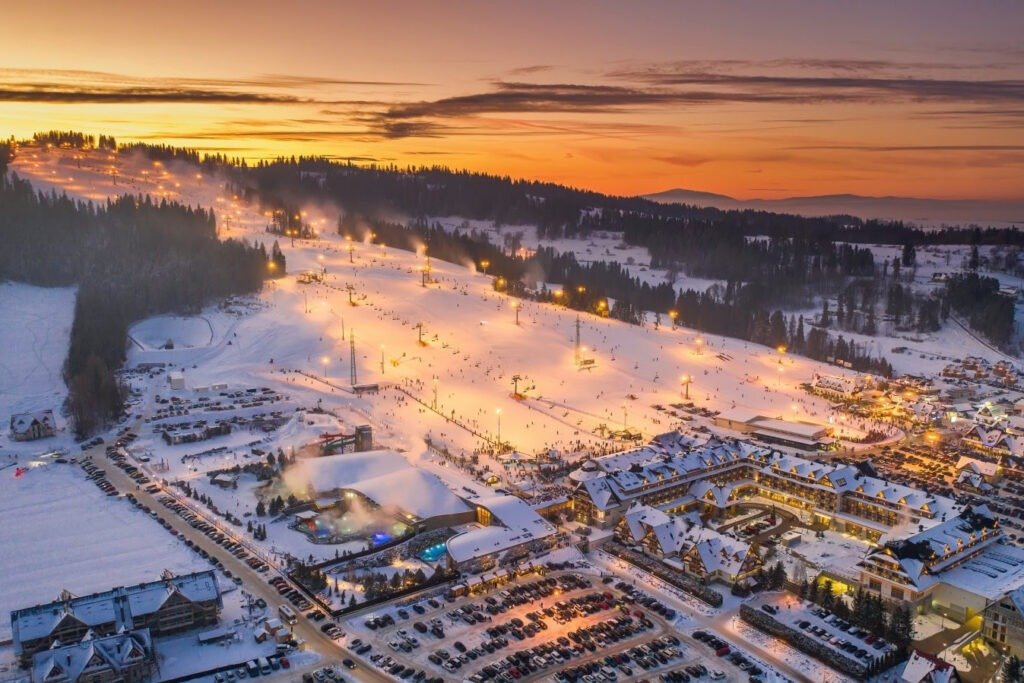 Bialka Tatrzanka Ski & Spa
The skiing possibilities in Zakopane are almost limitless. The Zakopane Tatra Super Ski Area includes over 15 resorts, including Poland's biggest connected ski area. There are pistes for skiers of all levels, but also many opportunities for splitboarding, freeriding, cross-country skiing and ski touring through the Polish Tatras. Advanced skiers need to be mindful of the avalanche conditions in the Tatras. 
Meanwhile, the options for beginners are also great. Moreover, Zakopane boasts excellent ski instructors who speak English and offer lessons to groups of all skill levels to help skiers build their confidence on the slopes. 
Zakopane is also great off the slopes. It has natural thermal springs, beautiful hiking destinations, snow mazes, busy nightlife, and much more. Moreover, it keeps Polish traditions alive, which can be seen in the architecture, cuisine, and traditional horse sleighs. To learn more about Zakopane, check out our ski holiday in Zakopane ultimate guide.
Why is Zakopane a great ski holiday destination?
Traditional Kulig horse sleigh
The intricate mix of tradition, modernity, and superb skiing conditions, make Zakopane an excellent location to have an unforgettable ski holiday. Zakopane has something to offer to everyone, regardless if they come solo or bring their friends or family. There are all sorts of options for accommodation, although groups, depending on their size, will most likely find ski chalets to be the best option!
Bansko - one of the most affordable and beginner-friendly ski resorts in Europe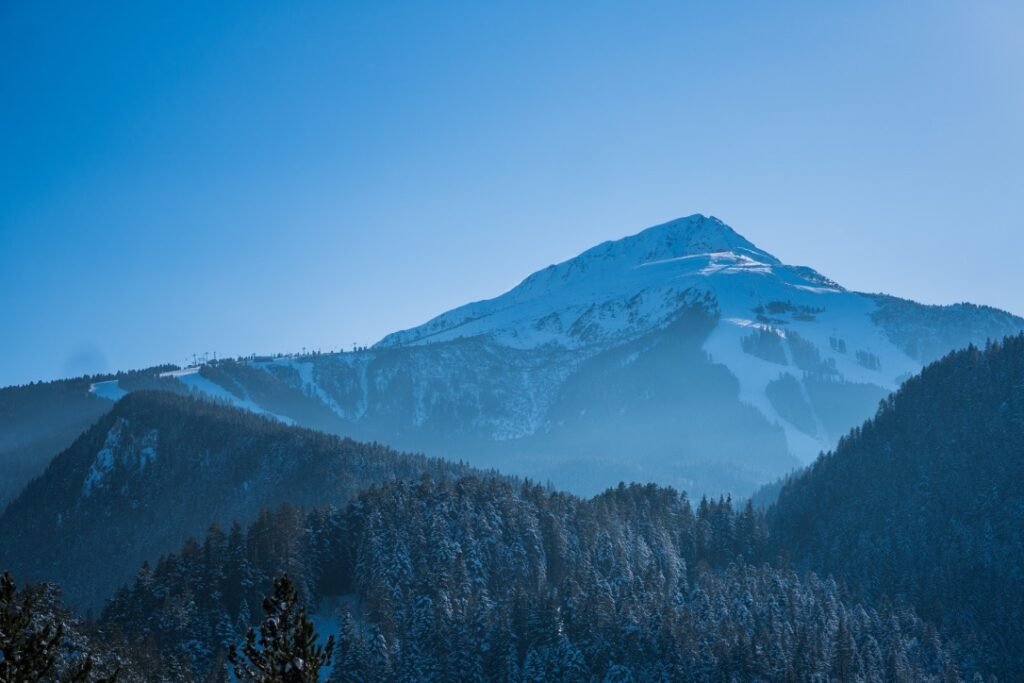 Bansko is a small historical town tucked away in the foothills of the Pirin nature park. It is Bulgaria's ski capital and boasts the most developed ski area in the country. The mountainous region is located in Southwestern Bulgaria, close to the borders with Greece and North Macedonia. Vihren peak towers over Bansko and is the third-highest peak in the Balkan peninsula, 2914 meters.
What can you do in Bansko?
The ski slopes around Bansko
Bansko is a great skiing destination for beginners and rusty skiers who need to regain their confidence on the slopes. The Bansko ski area has a gondola and multiple lifts to get you to the top of the mountain. 
Beginners can ski down a massive 5-kilometer blue run straight into the bars at the edge of town. Moreover, Bansko has excellent English-speaking ski instructors who offer individual and group lessons. 
Advanced skiers can ski down several black runs, or they can explore the tricky tree runs off-piste. There are also excellent opportunities for ski touring in Pirin. There are a total of 75 km of pistes waiting for adventurers to explore them. 
Apart from skiing, Bansko's historical center is great to check out. You can accidentally wander into a time capsule from a different century. The cuisine, crafts, and architecture will leave an unforgettable memory from your winter holiday. 
Historical Church in the Bansko Oldtown
The value you get for your money is insane compared to the Alps. Especially if you are a beginner, you have everything you need to get started without having to fork out a fortune. If you or your friends are visiting for the first time, check out our checklist for what to pack on a ski holiday! One drawback to Bansko is that it has been getting so much popularity lately that there are often big queues, but here are our best tips on how to avoid the Gondola queue.
Bansko has a bit of everything – nature park trails, excellent pistes, busy bars, and a preserved historical town. To learn more about the town, check out our Bansko ultimate ski holiday guide. 
Lastly, Bansko boasts excellent accommodation opportunities for groups of all sizes. In particular, our catered chalet service is excellently suited for adventure groups looking to enjoy what Bansko has to offer to the fullest. 
Popova Shapka - one of the best off-piste ski resorts in Europe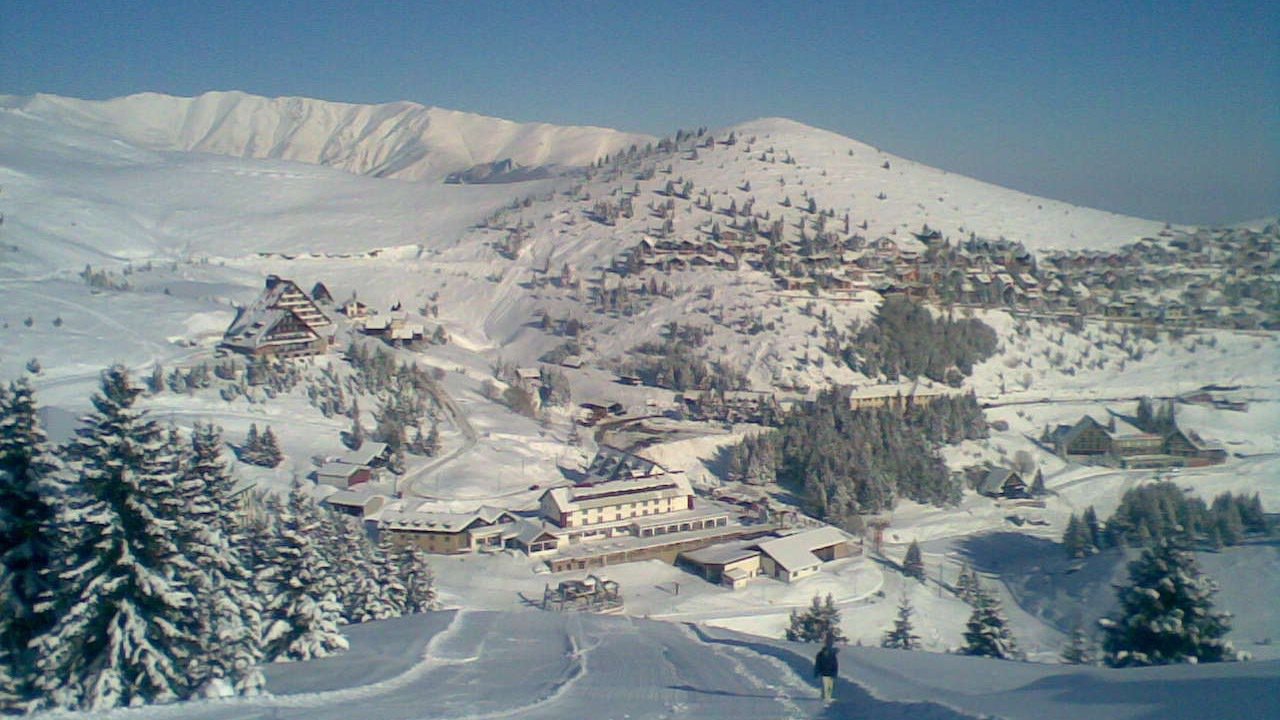 Popova Shapka is one the oldest and largest ski resorts in North Macedonia. It's not nearly as famous as Bansko or Zakopane, but that is also part of its charm. Popova Shapka, located at 1800m of elevation in the Shar mountain, is truly one of the last ski frontiers in Europe where you can enjoy pristine powder without any crowds.
What can you do in Popova Shapka?
Popova Shapka's facilities are rather modest, numbering to 20 km of slopes and 9 lifts. However, that is not why it's on our list. Popova Shapka is home to our snowcat ski operation, which is one of the only spots in Europe where you can try cat skiing. It is the ultimate form of backcountry skiing where skiers and snowboarders are transported up the mountain in a caterpillar machine so they can enjoy sliding down untouched powder far away from civilization. 
Other than skiing, Popova Shapka is located just 60 km away from the Macedonian capital, Skopje. Thus, it's an excellent location to have a day trip to explore Macedonian culture, history, and delicious cuisine!
Why is Popova Shapka great?
Popova Shapka is an amazing destination for advanced skiers who want to get away from the crowded pistes and reconnect with nature. Cat skiing, in particular, is great because it offers an intimate group experience with a lot of personalized attention from the guides. Just you and your buddies with nothing but virgin powder, as far as the eye can see. Moreover, cat skiing is very affordable compared to helicopter skiing. Overall, cat skiing is a great adventure that is still unknown to most European skiers and can give you just the right amount of challenge. To learn more, check out our guide about cat skiing in North Macedonia. 
Bonus: How to have a sustainable ski holiday?
It's no secret that uncontrolled tourism can be a huge polluting factor, especially on a local level. That's why it's good to at least be aware of the ways your stay can avoid making a negative impact. The main things to keep in mind are:
Transport

Food 

Energy

Recycling

Carbon Offsetting 
Airplanes have a huge impact on your carbon footprint. If it's possible, consider traveling by train. It's better for the environment, and it's a proper adventure. Enjoying fresh local produce is a great way to support local producers and limit your impact. Energy is about not using more than you need to just because you are on holiday. Recycling is about helping as much as it is about not preventing others from making an impact. Finally, Carbon offsetting is a great option to restore the balance in nature. If you'd like to learn more, check out our sustainable ski holiday guide!
Final Thoughts on Alternative Ski Destinations in Europe
The ski season of 2023 is already upon us, and we'd like to invite everyone who's looking for something new, adventurous, and affordable to spend an unforgettable ski holiday with us! Especially if there are beginners in your group, we believe that they would feel equally fine falling in Bansko or Zakopane as they would in any overpriced Alps resort. For more details, see our contact page. Finally, we wish everyone happy skiing!
Check our guides and stories
I've been in the writing business since 2017 and have experience in e-commerce, sustainability, and luxury niches. I am an agile problem solver with a knack for satisfying users and search engines.  
You can check out my content writing agency if you'd like to learn more about what I do!