Everything you need to know to have an unforgettable ski holiday in Bansko
Welcome to the ultimate guide to having an unforgettable ski holiday in Bansko. Here you will learn about Bansko as the number one skiing destination in Eastern Europe. You will learn about all the fun activities you can do, places that you can visit, food that you can enjoy and nightlife that you can experience. This is the Snomads ultimate guide to Bansko. Enjoy!
Table of Contents
4. What to do in Bansko besides skiing
5. What and where to eat in Bansko
6. Bansko nightlife
About Bansko
Bansko – a historical mountain town in Bulgaria
Bansko is a small town, tucked away at the eastern end of the Pirin Mountains. Bansko's history dates back to pre-Roman times and has been very dynamic due to its strategic location. In more recent history Bansko has been a center of Bulgarian culture and crafts. The town has also been a popular healing destination due to its climate and hot natural springs. Today you can visit its historical city center and see architecture that dates back to the 18th century. Large houses were built from stone, churches, clocktowers, fountains, and more. When you walk through the city center, it feels as if time has been frozen in a capsule.
Bansko, Bulgaria's winter capital
Situated in the foothills of the Pirin mountain, Bansko offers excellent accessibility to Bulgaria's most snow-sure and diverse range. Recognised and protected by UNESCO, it has become Bulgaria's largest and most modern ski area. It's one of the most popular skiing destinations in Eastern Europe. Bansko attracts millions of tourists in winter and remains a popular destination in summer.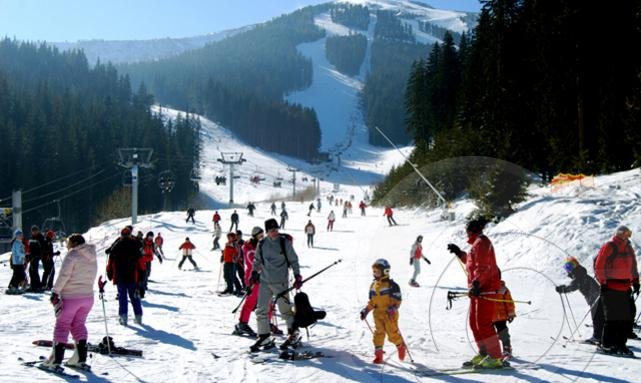 The town hosts the annual Bansko Jazz fest in summer. People flock to enjoy great and affordable skiing opportunities, while also enjoying the rich culture, unique architecture, and delicious cuisine. Needless to say, the natural scenery will stop you in your tracks. The sea altitude of the town is just short of 1000 meters while the ski gondolas can get you as high as 2600 meters.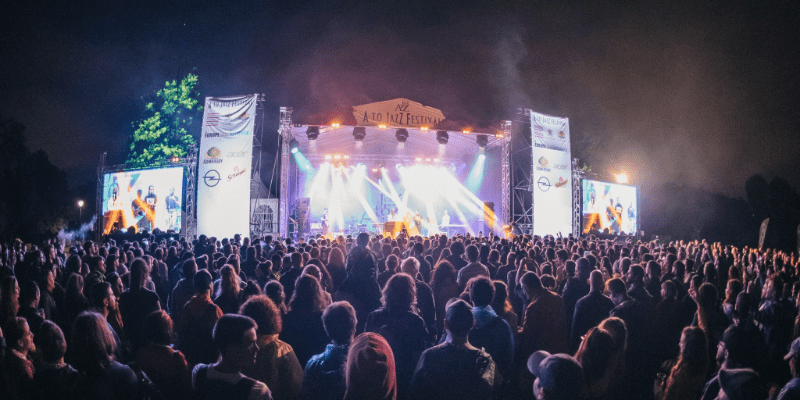 Bansko is also the sight of many skiing competitions. Since 2007, Bansko has consistently found itself in the FIS world cup calendar with men and women ski and snowboard races being held and enjoyed. In 2020 Bansko was also due to host competitions from the Freeride World Tour, outlining the resorts increased free ride potential and recognition. Unfortunately, the 2020 COVID pandemic postponed these events which we'll now look forward to seeing in the coming winters.
Skiing in Bansko
Bansko is a great ski alternative to the Alps
Skiing or Snowboarding in Bansko has been rising in popularity over the years as many have realised it's value for money when compared to many of its alternatives in the Alps. Bansko has many family-friendly slopes that are perfect for beginners or those that are a bit rusty to build up confidence before advancing up the mountain.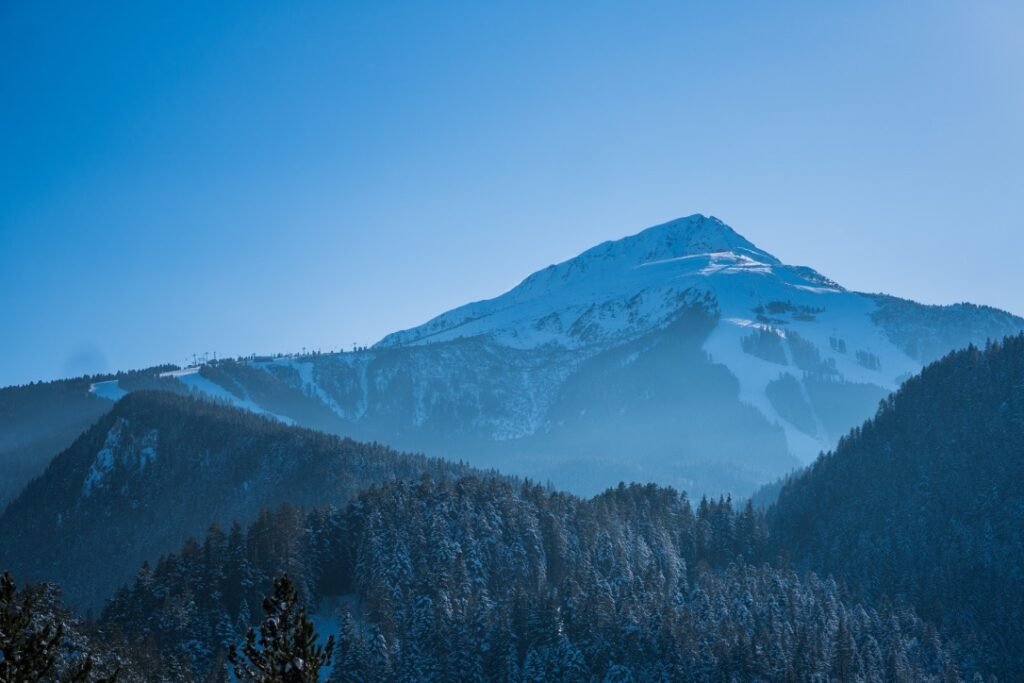 Bansko also boasts a HUGE 5 kilometre blue run that extends from the top of its gondola to the bottom. You'll even find bars on the way down making it a great place to practice and enjoy at the end of the day. Advanced skiers can also enjoy seemingly endless off-piste, tricky tree runs, and a huge range of freeriding that the Pirin mountain has to offer.
Bansko has been voted Bulgaria's Best Ski Resort annually since 2013 in the World Ski Awards with 75km of piste ski runs marked. Bansko has one of the most up-to-date lift networks in Europe and at points takes you as high as 2600m. Most of the resort is above 1700m and with 90% snow cannon coverage you can be confident that Bansko is snow sure.
Bansko ski pass
Bansko's ski pass covers all lifts in Bansko making your holiday nice and straightforward. We can arrange for your lift pass to be ready and waiting for you at your chalet, saving you a job on your first day.
If you would like us to organise passes to be ready, just make sure you let us know at least 2 weeks in advance. This is a free service with the pass price remaining identical to the purchase price at the gondola. Just another advantage to staying with Snomads to provide a hassle-free holiday. We've got you covered! Contact us if you'd like more info.
Bansko Ski Pass Prices
| | | | |
| --- | --- | --- | --- |
| 2019/2020 PRICES | ADULT | CHILD (UNDER 13) | CHILD (UNDER 7) |
| Gondola Only (Pedestrians) | 32lv≈€17 | 21lv≈€11 | 1lv≈€0.50 |
| Half Day (After 12:30am) | 54lv≈€28 | 37lv≈€19 | 1lv≈€0.50 |
| 1 Day | 70lv≈€36 | 48lv≈€25 | 1lv≈€0.50 |
| 2 Days | 134lv≈€69 | 83lv≈€42 | 2lv≈€1 |
| 3 Days | 203lv≈€104 | 118lv≈€60 | 3lv≈€1.50 |
| 4 Days | 268lv≈€137 | 144lv≈€74 | 4lv≈€2 |
| 5 Days | 337lv≈€172 | 168lv≈€86 | 5lv≈€2.50 |
| 6 Days | 400lv≈€205 | 198lv≈€101 | 6lv≈€3 |
| 9 Days | 600lv≈€307 | 262lv≈€134 | 9lv≈€5 |
Bansko ski pass prices 19/20
All passes are valid for consecutive days only.
Ski Equipment in Bansko – Fitting & Servicing
The Snomads team has your back with our in-house rental shop. No unreasonable prices, no queues, no hassle. We'll get you fitted and sort everything out while you're enjoying a drink at the chalet. We're always updating our ski and snowboard equipment to ensure you enjoy a top-notch experience. If you need something more specialist we work with some of the best companies in Bansko.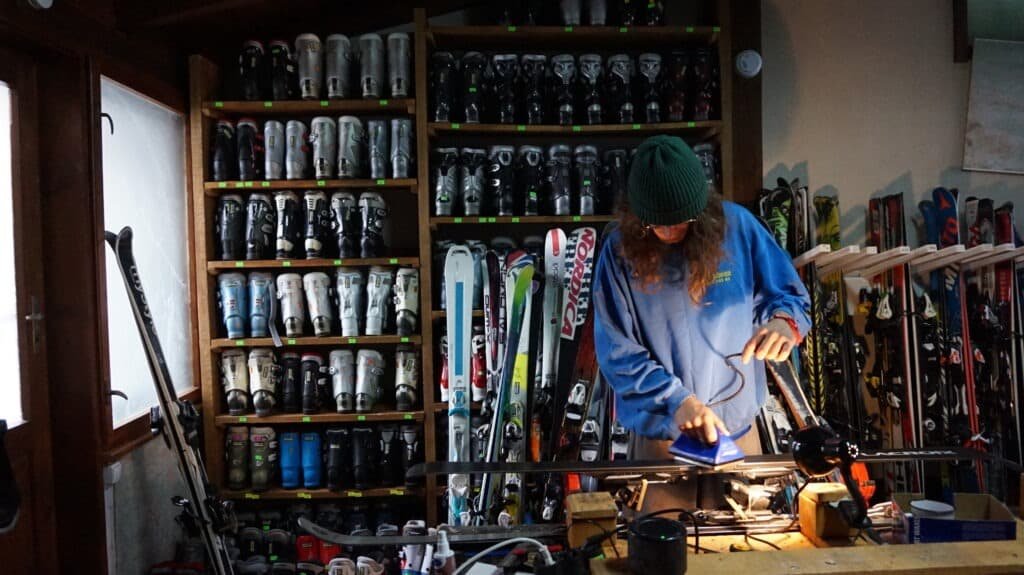 Snomads Ski/Snowboard rental Bansko Prices
| | | | | | | |
| --- | --- | --- | --- | --- | --- | --- |
| ADULT | 6 DAYS | 5 DAYS | 4 DAYS | 3 DAYS | 2 DAYS | 1 DAY |
| Skis, boots & poles | 150lv≈€77 | 135lv≈€69 | 110lv≈€56 | 82lv≈€42 | 60lv≈€31 | 30lv≈€15 |
| Skis & poles | 100lv≈€51 | 85lv≈€43 | 70lv≈€36 | 55lv≈€28 | 40lv≈€20 | 23lv≈€12 |
| Snowboard & boots | 190lv≈€97 | 176lv≈€90 | 141lv≈€72 | 110lv≈€56 | 76lv≈€39 | 40lv≈€20 |
| Snowboard | 150lv≈€77 | 135lv≈€69 | 110lv≈€56 | 82lv≈€42 | 60lv≈€31 | 30lv≈€15 |
| Helmet | 30lv≈€15 | 25lv≈€13 | 20lv≈€10 | 15lv≈€8 | 10lv≈€5 | 5lv≈€3 |
| | | | | | | |
| --- | --- | --- | --- | --- | --- | --- |
| CHILD | 6 DAYS | 5 DAYS | 4 DAYS | 3 DAYS | 2 DAYS | 1 DAY |
| Skis, boots & poles | 100lv≈€51 | 85lv≈€43 | 70lv≈€36 | 55lv≈€28 | 40lv≈€20 | 20lv≈€10 |
| Skis & poles | 70lv≈€36 | 60lv≈€31 | 50lv≈€26 | 40lv≈€20 | 30lv≈€15 | 15lv≈€8 |
| Snowboard & boots | 150lv≈€77 | 137lv≈€70 | 119lv≈€61 | 83lv≈€42 | 60lv≈€31 | 33lv≈€17 |
| Snowboard | 100lv≈€51 | 85lv≈€43 | 70lv≈€36 | 55lv≈€28 | 40lv≈€20 | 30lv≈€15 |
| Helmet | Free | Free | Free | Free | Free | Free |
Snomads Bansko Rental Prices
On arrival, our team will get you fitted as quickly as possible. Or if you've brought your personal equipment our team can service it in-house upon request. If you're arriving late at night, we will arrange everything first thing in the morning. We try to give you as much time on the slopes as possible.
You don't have to book anything extra in advance. Our team is always around to answer questions and give suggestions if you're looking to try something more adventurous while you're here. At the end of your stay, just drop everything back in the chalet. Hassle-free.
Ski lessons in Bansko
Everyone can benefit from a lesson or two to build confidence on the slopes, and in our opinion, a commendable ski school should hold three vital requirements: experienced English-speaking instructors, a range of ability groups, and small class sizes. We work with one of the highest regarded ski school providers in Bansko, which we believe delivers on all the above.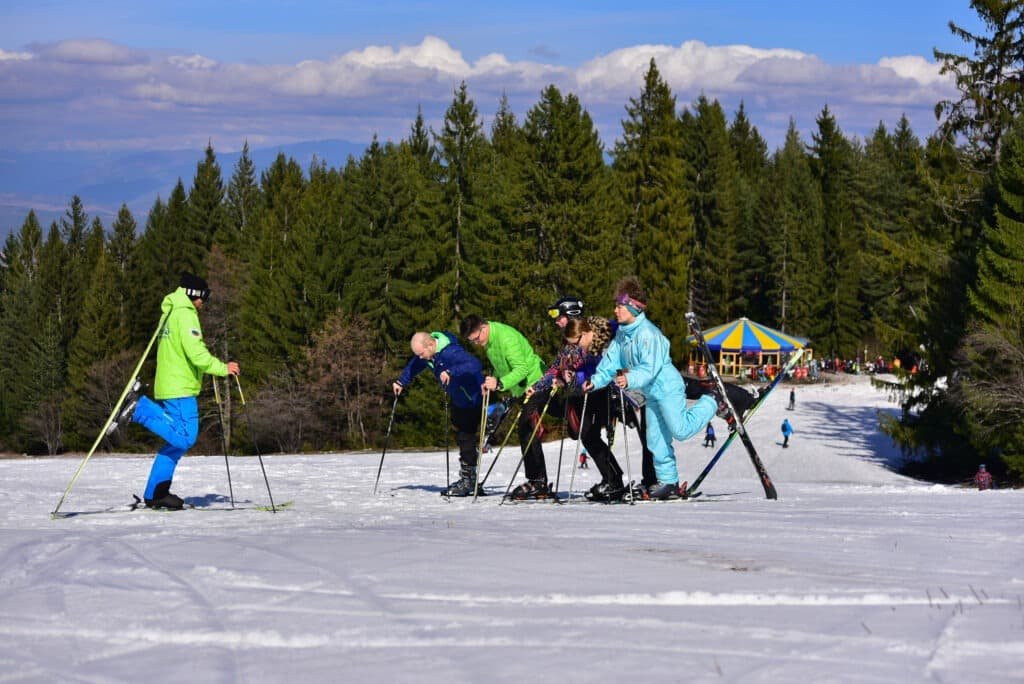 A variety of lessons are available including standard group, private group, or one-to-one tuition. For standard group lessons, students will be grouped with those of a similar ability. All lessons take place in the main ski zone at the top gondola station, so a ski pass is required.
Snowshoeing in Bansko
Snowshoeing is a great way of getting out and enjoying the beautiful Pirin mountains without having to lug around skies or snowboards. If you're looking to get away from the crowds and see the mountains from a different angle we're here to help. From our chalets, we arrange weekly walks that can suit any group. From a casual stroll to the Pirin's oldest pine tree (Baykushev's pine) to a more adventurous walk in the neighbouring resort of Dobrinishte.
How to get to Bansko
Flying to Bansko from the UK
These days getting to Bansko from the UK or most parts of Europe is nice and easy. From the UK it's possible to get a direct flight to Sofia, which is the closest airport to Bansko, from the following cities:
London
Bristol
Manchester
Birmingham
Edinburgh
Liverpool
By using Skyscanner it's possible to quickly find the most competitive prices and the journeys that will best suit you and your group. In addition to the direct flights, it's also possible to fly with multiple stops (occasionally works out cheaper but much worse for the planet) which is also something Skyscanner will cover for you. In addition to the main airlines that are compared on SkyScanner it's also possible to fly with BulgariaAir as well as British airlines, on both sites you'll find more details. It's worth noting that if you choose to holiday with us we work with Carbon Footprint. They offset the carbon emitted on your return flight. You can also support companies such as Sustainable Travel where possible.
Whilst we offer free airport transfers from Sofia with all our holiday packages it's also possible to fly into Plovdiv as well as Thessaloniki (Greece) if this better suits your journey. Rough travel times from each city are as follows:
Sofia: 2 hours (100 miles)
Plovdiv: 3 hours (100 miles)
Thessaloniki: 4 hours (160 miles)
Travelling with the Snomads – free direct transfer from Sofia airport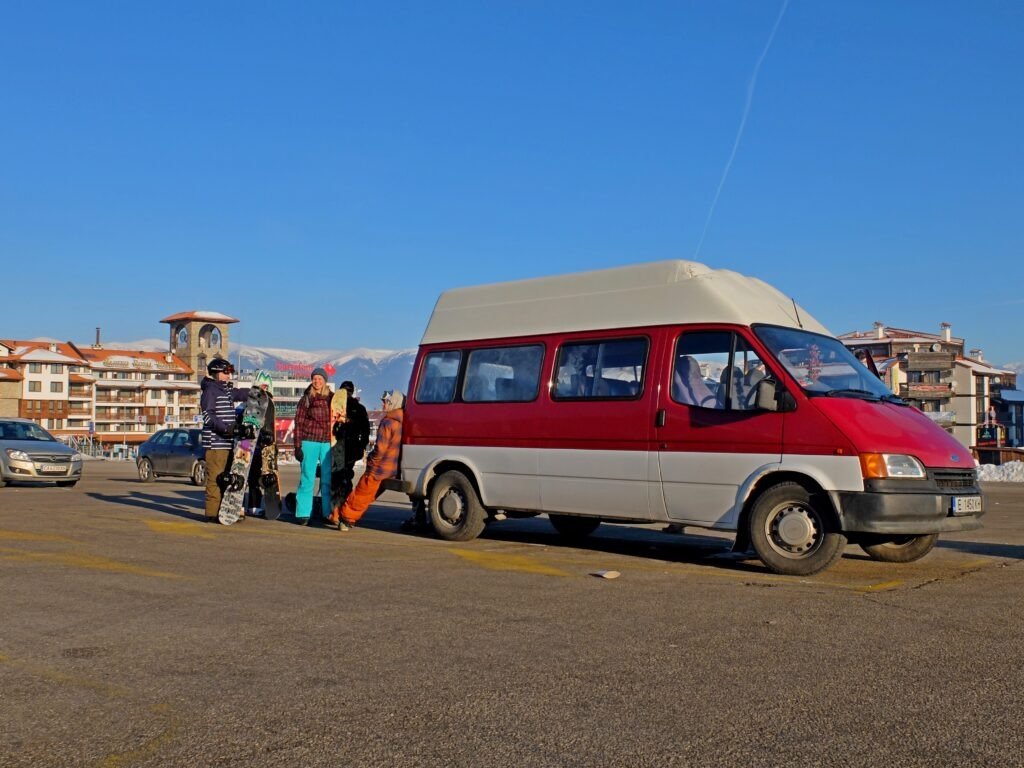 Snomads is committed to giving you a hassle-free holiday if you choose our service. This includes picking you up from Sofia airport and transferring you all the way to the ski chalet you've hired in Bansko. Forget about changing multiple means of transportation and figuring out all the schedules along the way. Just kick back and relax. We'll take care of the rest.
Shared/Private Transfers to Bansko
The easiest way to get from all airports is through transfer companies such as ShuttleDirect, Bansko express, or Traventuria who can help you with either private or shared transfers, picking you up from right outside the airport and dropping you and all your bags to your destination. All their prices can be found through their websites.
Getting from Sofia airport to the main bus or train station
Metro
At terminal 2 there is a metro station which is easily reached from terminal 1 via a free bus which runs every 30 minutes and takes around 5 minutes. Metro tickets can be purchased from the ticket office or the ticket machine for 1.60 leva. The trains run from 5 am to midnight. Once on the metro travel to the Central Railway station which is where the bus station is also located.
Taxi
If you don't fancy taking the metro or you have many bags, grabbing a taxi may be easier. When you arrive in the arrivals lounge you will see many taxi drivers offering a ride into Sofia. We strongly recommend using the OK Supertrans taxi and purchasing a ticket from the counter in the airport to avoid any problems. Alternatively, TaxiMe or Yellow Taxi apps can be used (similar to Uber). Journey time should be around 20 minutes and costs around 12 leva.
Electric Rent a Car
If you're looking to support a new initiative and support greener energy, renting an electric car through Spark electric cars is an option. However, to date, we haven't got much experience with it to report.
Bus from Sofia to Bansko
Taking the bus is a very affordable and environmentally responsible way of travelling with the journey costing around 15 leva. From the central bus station to Bansko the buses depart every day at:
08:30, 09:45, 11:25, 13:15, 14:00 and 16:45
Returning from Bansko to the central bus station the times can all be found on the Avtogara website.
The bus takes around 3.5 hours so definitely not the fastest option but great if you're a solo traveller on a budget. Bansko isn't the final bus stop so it's important to pay attention toward the end of the journey. Once in Bansko, the bus stop is at the bottom of the resort (around 30 minutes uphill walk to the gondola so worth planning your journey.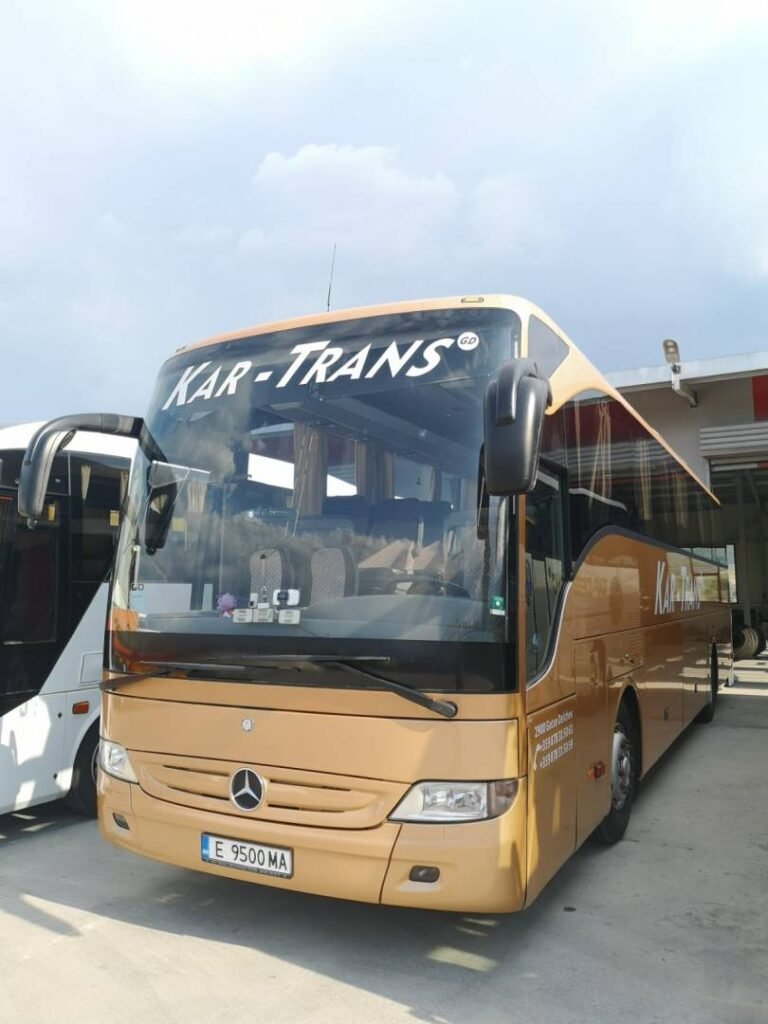 Trains from Sofia to Bansko
This option is best if you aren't in a hurry and like to enjoy the scenery. The journey takes around 8 hours and includes a midway change of train. This one's definitely for the more adventurous and sets off from the main train station in Sofia. Make sure you take food and drink on board with you.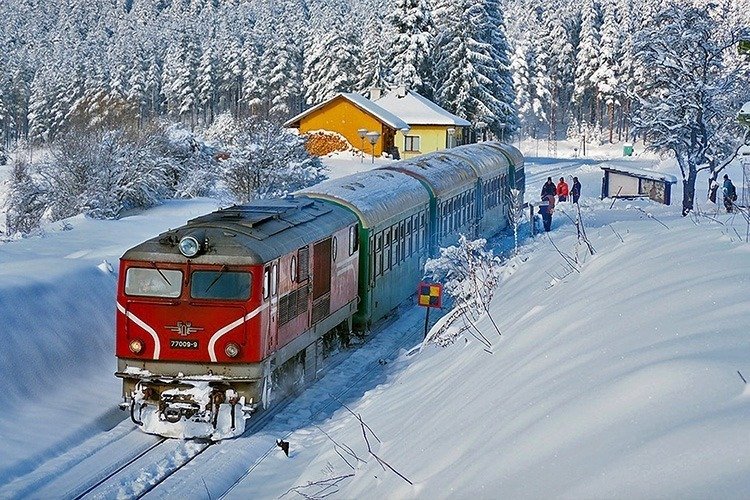 Prices are as follows:
First-class adult: 14.10 leva
First-class children: 8.45 leva
Second-class adult: 11.30 leva
Second-class children: 5.65 leva
Learn more information about trains from Sofia to Bansko.
Rent a car to Bansko
If you're looking for a little more freedom renting a car is a great option. It's reasonably affordable but it's worth noting that driving in Bulgaria is very different from driving in the UK. Expect to be overtaken aggressively and the occasional tailgating. Google maps are now pretty reliable with a motorway taking you a lot of the way once out of Sofia. Cars can be collected straight from the airport with many companies offering a variety of options. Some options available; Top rent a car, Choice, or use Travel Supermarket to compare. Journey time is between 2 and 2.5 hours.
In summary, if you choose to holiday with us we'll make your journey nice and easy, helping you find flights and then picking you up from the airport and bringing you straight to us. If not there are plenty of options above that will keep you nice and entertained.
What to do in Bansko besides skiing
Bansko maybe Bulgaria's winter capital because of the skiing opportunities, but the fun doesn't end at the slopes. There is a lot more to enjoy, explore and experience in Bansko and the surrounding areas. Regardless if you enjoy nature, culture, cuisine, or party nightlife, Bansko accommodates all tastes.
Wander around Bansko's Old Town
Just a short stroll from our Bansko chalets you'll wander into the charming cobbled streets of Bansko's old town. This UNESCO World Heritage site will take you back centuries, with beautiful stone buildings winding off in all directions. With many of the buildings still residential, some run as Mehana's (traditionally decorated taverns serving food and drinks), whilst others house museums or the notable Holy Trinity Church which is well worth a visit and can be spotted by its 30m tall bell tower.
Pirin street is one of Bansko's main streets and where you'll find the church. This street is lined with shops and restaurants that if followed will eventually lead you to the main skiing gondola.
Relax and enjoy some of Bulgaria's geothermally heated pools
Whether you're skiing or not, sitting back and relaxing in a naturally heated pool is a must. Every week we arrange and run excursions to a small village just outside Bansko which boasts geothermal springs which are thought to have an array of healing properties. Either way, enjoying a nice cold drink whilst relaxing in luxuriously warm water shouldn't be missed.
We highly recommend and run all our excursions through Izgreva, a Spa and restaurant in Banya that offers great food, blissful massages, and the opportunity to swim in warm water whilst being surrounded by snow. If you'd like more information on the excursions we have to offer in Bansko just get in touch.
Visit the Rila Monastery
If you're looking to go a little further afield and fancy some history, visiting the Rila monastery is a great option. Dating back to the 10th century this orthodox monastery is one of Bulgaria's most important cultural and historical landmarks. To date, it still attracts thousands of pilgrims each year. As the monastery's roughly an hour and a half's journey from Bansko, we'd recommend putting aside a day to really soak up the rich history this monument has to offer.
Ice skating in Bansko
This is one for the families whose children haven't already had enough snow or simply want something different. Bansko's ice rink is located on Pirin street and costs 12 Bulgarian leva for 2 hours making it a nice affordable option.
Try Mountain Biking in the Pirin mountains
Bansko sits at the foot of the Pirin mountain which over the past few years has seen a sharp increase in the number of bike trails being set. This, as well as the close-by and accessible Rila mountains, make mountain biking a great option if the weather permits. As well as being a winter option, mountain biking in Bulgaria is much more popular in the summer with endless options available. We'd recommend reading a travelling blog by Maria if you're looking for ideas or inspiration. As always, if you need a little help arranging some biking whilst in the resort we're happy to help and advise.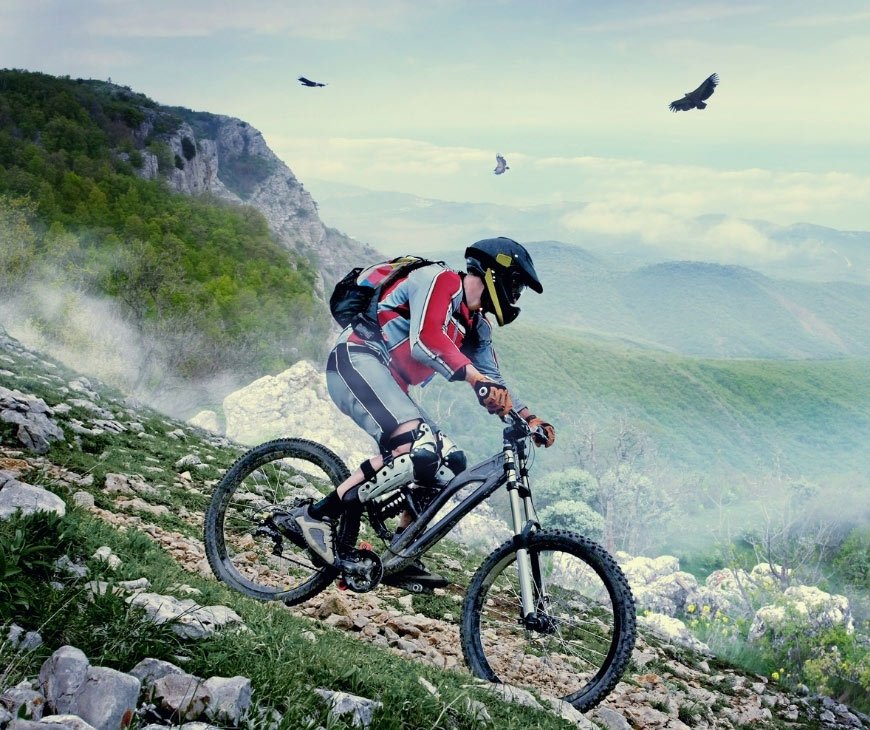 Visit one of Bansko's escape rooms
This might not be the first thing you think to do when on a skiing trip to Bansko but it is something you should definitely give a go. Whilst an escape room isn't something you'll find in most ski resorts, Bansko has two that run right through the winter. Have a look at escape rooms in Bansko.
Check out Bansko or Razlog's local markets
This has always been one of our favourite activities and is where we source a lot of the produce we use in the chalets. Every Sunday, Bansko has its main market which is followed by Razlog's (neighboring town) local market on Monday. In both, you'll find a whole host of characters selling a huge variety of products from homemade rugs to local rakia (spirit) and wine.
If you're looking for culture this is a great place to find it whilst also getting the chance to try some of Bulgaria's best homemade products. As we're such big fans we're always happy to take you along, just let us know when you arrive.
Above we've only listed 10 possible things to do in Bansko if you're not skiing or snowboarding or simply want a day off but the list is endless. If you do want more info just give us a shout or ask when you get to us.
Treat yourself to some traditional food at one of Bansko's Mehanas
For us, there's no better way to enjoy Bansko than to spend an afternoon in one of its many Mehanas. These taverns are a great experience with traditional dishes being served, often with a backdrop of Balkan music and dance. If you're looking for ideas of where and what to eat you'll find a list just below. Whilst the Bulgarian diet definitely has a tendency to be meat-based you'll also find some cracking vegetarian options.
Regardless of the time of day, for us, it's always worth trying the house wine. If it's not homemade it'll likely be very local, very tasty, and always accompanies whichever food is being served. As an added bonus, if you find yourself out later into the night sampling some local wine it's likely to help limber up the body before attempting the Horo, a range of traditional dances which are great fun.
If you'd like to learn a little more about some of the great wines Bulgaria has to offer we also offer chalet wine tasting sessions which will run you through all the classics accompanied by some tasty local mezze options.
What and where to eat in Bansko
As you may have gathered, food is something we're extremely passionate about, with that in mind we've decided to share a list of some of our favourite options that Bansko has to offer. Whether you're staying with us in our catered or B&B chalets, getting out and tasting some of the local dishes is a must during your holiday with us.
Within Bansko, you'll find a range of 'Mehana' which simply translates to the tavern. This typically refers to a traditional restaurant where you're likely to find local Bulgarian dishes. The food found here is often fresh, very hearty, and made based on age-old recipes that have been passed down generationally.
When eating out prices can vary although you'll be pleased to find that on average meals are cheaper than in other European countries with dinner for 2 ranging from 20lev (£9) for a simple feed up to 200lev (£88) for a Michelin star style experience.
Be aware card machines are often 'broken' so it's always worth having enough cash on you to buy the meal and leave a tip.
Traditional Bulgarian foods you absolutely must try
This is a list that could go on and on so we'll try and keep it short.
Banitsa – A traditional pastry that will fix any hangover and is great for breakfast paired with ayran (a yogurt drink).
Shopska salad – This is a classic salad that you'll find everywhere and is a must as the ingredients are always nice and fresh. Made from cucumber, tomato, and white cheese it uses local ingredients that are rumoured to have been combined to combine the colours of the Bulgarian flag.
Bob chorba – Another national dish and translates as a bean soup, 💯 vegan and not to be missed, great with some homemade garlic bread
Pork knuckle – A real beauty, slow-cooked for hours and will simply fall off the bone
Sach – This dish usually consists of a variety of meats and vegetables or only vegetables and is cooked and served on a sizzling hot plate, a real showstopper
Chicken in cornflakes – Sounds unusual but a homemade chicken nugget covered in corn flakes with a yogurt dip on the side, what's not to like
Kapama – Cooked in a clay pot and made up of sauerkraut, rice and a variety of meats, it's traditionally a Bansko dish and is a must
Kavarma – Another is usually cooked in a smaller clay pot, this time with vegetables and with whichever meat is most local and seasonal.
Lutenitsa – Local tomato-based chutney sauce which goes unbelievably well with cheesy chips or sauté potatoes. The real ketchup of the Balkans.
For more ideas just give us a shout or check out a guide written by A Social Nomad.
Eating out in Bansko
Finding the right place to find some of the above can be hard as Bansko is packed with places to eat out. This is why we've created a shortlist of some of our favourite places to dine.
Secret Snomads Experience – Some things are best kept a secret and you'll have to ask your Snomads host on arrival about this one. After nearly a decade of exploring this is our number one spot in Bansko and if possible shouldn't be missed. The easy way to enjoy an authentic night out in one of Bansko's best Mahana restaurants. Eat and drink the night away with a simple per head price organised by your chalet hosts.This is a set meal evening to die for. Truly a unique setting and the freshest, home cooked food you'll eat in Bansko, washed down with homemade wine and rakia – Bliss.
Mehana Obetsanova – An 18th-century tavern where sheepskins cover the hand-carved chairs and waistcoated waiters glide around the room. Take your pick from a menu that champions meaty mains, such as braised lamb shanks, wild bore in plum sauce, barbecued pork, and slow-cooked veal. They can even collect you from the chalet and drop you back after you've eaten.
The House – This is a truly unique traditional timber log house that has to be seen to be believed. It's easy to miss but well worth a visit. Some of the best and freshest home made food with a delicious Bulgarian menu.
Red Hot – A modern and fun restaurant with a great laid back atmosphere, Serving local and European food on the main Bankso strip up by the gondola. Well worth trying the house wine with whatever you decide to order. Like Mehana Obetsanova we can arrange complimentary pick up from the chalets.
Dedo Yonkata – This is one of the oldest mehana restaurants in Bansko and is based on the beautiful and lively Pirin street. Very traditional menu and atmosphere with some unique Bansko dishes that you won't find in many other places.
Snomads Bansko Ski Chalet menu
Within our chalets, our menu has always been heavily influenced by traditional local cuisine. We source fresh local ingredients and draw inspiration from the regional food that we've enjoyed in many of the places listed above. Find out more about our selection of organic foods.
Takeaway in Bansko
If you're not staying in our catered eco Chalet Prince, It's sometimes quite difficult to take yourself back out after a long day skiing, luckily across all our Bulgarian bed and breakfast chalets we have a traditional and seasonal meal set cooked to order for a small extra cost, delicious and seasonal produce with both meat, vegetarian and 100% plant-based options available.
If you're feeling like something different to Bulgarian then options have increased a lot in recent years and the Snomads team can be on hand to help with deliveries.
Below you'll find a list of some options that cover a variety of cuisines and great takeaway prices
The Station Bansko – Best Greek Kebabs in town.Simple as. Delicious vegan and veterinarian options too.
Bansko Nightlife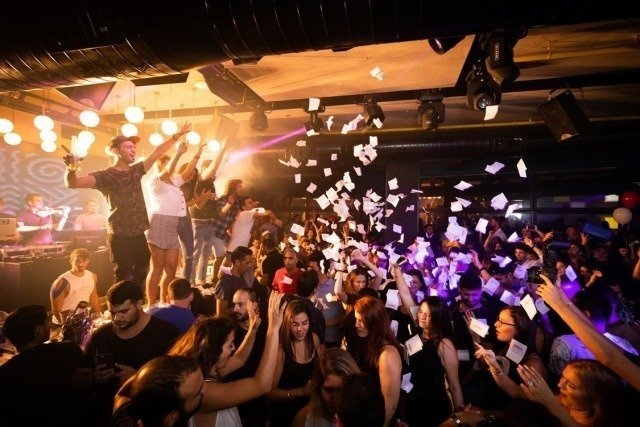 What's après like in Bansko?
Lively, plentiful, and budget-friendly, the après ski scene and general nightlife in Bansko is something you will thoroughly enjoy. Hundreds of bars, wineries, pubs, and clubs to choose from and you can be as generous as you like with rounds of drinks costing a fraction of what they would in the Alps.
Below are a few of our favourite joints, après ski bars, and full-on nightclubs that attract both tourists and locals alike.
Feel free to follow the crowds and enjoy a bit of bar-hopping, even if that means you lose the last free shuttle to the chalet, distances are small and taxis are cheap!
If shots are your thing, then you're in luck. Shots are cheaper in Bulgaria than virtually any other European ski resort. If you're more of a lager drinker you can get a beer for the equivalent of about 1.50GBP in Bansko. Not only are the prices absurdly low, but most of the bars in Bansko have happy hours. Our advice, create your own happy hour bar crawl and move from one establishment to another as each happy hour kicks off.
Tip: if a Bulgarian orders a vodka and coke they expect the drinks to be served separately. Although most places would understand what you meant if ordering this (especially in a British accent), it might be worth mentioning to the bartender that you want the drink mixed. Lookout: measures for spirits and liqueurs are double what you're used to at home. A single measure is 50ml and a double is 100ml, so pace yourself.
What drinks to try when you're on a night out in Bansko
Pirinsko beer – An obvious choice when your skiing in the Pirin mountains, the myth goes that Pirinsko beer is brewed using only the freshest mountain water, obviously it's everywhere in Bansko and tastes even better 2000m above seas level on the mountain after a hard day's skiing.
Mavrud red wine – a traditional Bulgarian red wine made from one of the oldest and considered one of the most valuable and high-quality local grape varieties. Mavrud red wine is characterised by a ruby red colour and a soft taste and a specific, very pleasant aroma that brings out blackberries and ripe mulberries.
Rakia – this is the word for a brandy made from various fruits distributed in the Balkans. If you wish to drink like a local, then this is the standard way to do so. All countries of the Balkan Peninsula distill this beverage as a national drink. It is produced differently in different regions, with different ingredients, ways of distilling, according to the legislation of each territory. Initial data on the production of brandy in Bulgaria dates from the XI century, some historians believe that it originated in Bulgaria.
Mastika (Bulgarian Uzo) – The mastic drink is made with the resin of a coniferous tree common in the Mediterranean region. It is a strong distillate popular in Greece, Bulgaria, Macedonia, and Romania. Bulgarian mastic has a strong aniseed profile, the strength of the drink is 47%, so please drink responsibly.
All the above can be sampled in our chalets as we stock a range of local wines and craft beers and often have some harder spirits in-house to try. If you'd like to know more about what drinks we have on offer or receive more information on the all-inclusive alcohol add ons we provide just give us a shout.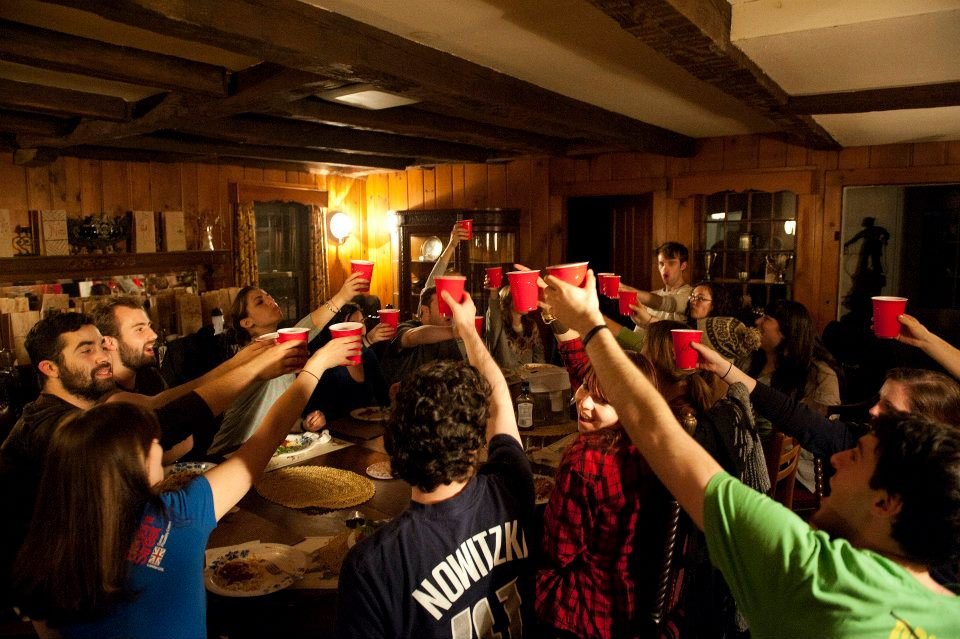 We hope you enjoyed the read
We had a lot of fun putting this guide together and we hope you found it interesting and useful. As you now know, Bansko offers a huge amount of activities. There is something for everyone, regardless of age or taste. It's a town with rich history and tradition that we think everyone should come and explore for themselves.
If you're looking for somewhere to stay we offer a range of services out of our eco chalets Diana-Ross, Supreme, and Prince. The Snomads team is always happy to help and deliver unforgettable experiences on and off the slopes.