If you're already planning a holiday with the Snomads, you don't need to read this article. However, if you are one of the unlucky ones, there is a chance you will be caught in a huge holiday gondola queue. Especially February can bring big crowds to Bansko. Fortunately for everyone involved, there are a few ways to skip the Bansko gondola queues and spend more time having fun!
In this article
Best time to arrive at Bansko's main gondola lift to avoid the gondola queue
The gondola that connects the town with the upper ski area has cabins that hold up to 8 people. At peak times this limited capacity can cause a bottleneck and create long queues at the main station. During the season the gondola opening times are between 8:30-17:30 However, in the past, the lift opening times have been extended, opening at 8 AM during the busiest periods. Naturally, this makes a huge difference and as many are unaware of the changes, arriving at 7:50 can be the difference between waiting 10 minutes rather than an hour. This might sound a little early to be up and skiing but if you save time here you can be back in the chalet and enjoying a relaxing afternoon of cake and tea
Alternatively, skip the morning rush and go around midday
If you've decided to have a lie-in or managed to stay out too late and haven't managed to get up early, arriving at the gondola a little later might be the option for you. As most people prefer to get out early, the gondola queue between 8:30 and 11 can be hard work. The obvious answer, casually rock up after 11 and you'll find the queues much shorter, the day is likely to have warmed up a little and all those around you are in a more relaxed state. Enjoy a frantic few hours of skiing the whole mountain or just get up the mountain and sit back with a beer or a hot chocolate, either way, this is a much more relaxing option when trying to skip Bansko's gondola queue. If you have ski lessons booked this isn't always an option but is something to be considered.
The easiest ways to get up the mountain
You have a variety of transportation options that can allow you to skip the gondola queue altogether. All of them require a bit of planning in advance and organizing yourself so that you can hit the slopes as early as possible. This way you can spend more time having time and less time waiting in queues.
Book your Bansko chalet holiday with Snomads!
The easiest option is to book with us as we offer an affordable shuttle up to one of the higher gondola lifts if the gondola queue looks a little long. This means that you can have a nice relaxing morning and simply jump in your pre-booked ride up the mountain. It's advised with this and all other methods that you plan ahead to make sure everything runs as smoothly as possible.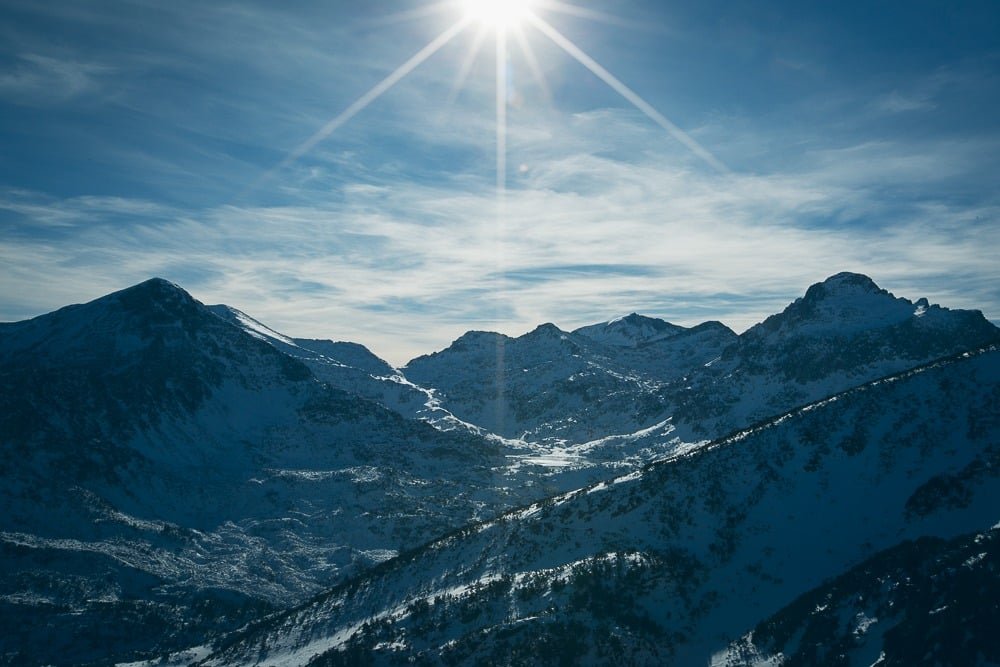 Book a shared or private shuttle bus to skip the gondola queue
Private shuttles up to one of the 3 stations above the main gondola can make life nice and easy. If you're unable to holiday with us we'd highly recommend finding a hotel that offers a similar shuttle service. Generally you'll be looking to pay 10lev a day and you'll likely have to wait for the buses to fill up before setting off. With both services, we'd highly recommend setting off early during peak times to avoid any built-up traffic up the mountain. If you set off on time the journey from Bansko to Banderishka Palyana should take around 20-25 minutes.
Jump on one of the FREE buses that run from the bottom of the gondola to the main top station (Banderishka Polyana)
This is a free system (must have valid ski pass) that runs throughout the season and one we'd recommend using out of peak weeks. Opening times are usually from 9 to 12 and it runs from the Happy End car park. During peak weeks the buses will often start earlier, however, there's very rarely any indication of any official changes. Jump in the minibus queue as early as possible and enjoy a nice scenic drive up the mountain. (UPDATE 01/01/22: THIS SERVICE IS CURRENTLY NOT RUNNING DUE TO COVID19 RESTRICTIONS).
Rent a car and drive up to Banderishka Polyana
During peak weeks this method can work to skip the Bansko gondola queue however it's crucial that you make sure you're up the mountain early enough to find a parking space at the top. Parking for the day costs 12lev at the top however the main mountain road has been known to be closed to the public during busy periods to allow the minibus service to run. There are many rental options available and this option can be tied in with getting to Bansko from the airport. If you want more details check out our ULTIMATE BANSKO SKI HOLIDAY GUIDE.
Jump in a taxi to reach Banderishka Polyana
This isn't the most reliable way to reach the top of the gondola as taxis are often privately booked for the busier weeks of the season. Because of this, this is also the most expensive option with prices being hiked at peak times. Nevertheless, if you want to get up the mountain and there's a taxi available it can be a great way of skipping the queues, just requires a bit of luck and a bit of bartering!
Save time before you get up the mountain!
There are a few more things we'd recommend considering to help skip the Bansko gondola queue and get you up the mountain faster. Whilst all the options above will help you travel up the mountain faster the points below are crucial to help save you time when you arrive in Bansko and get you going quicker.
Pre-book your ski/snowboard equipment in Bansko
If you've managed to sort your gear before your first-day skiing you won't have to wait around for the shops to open and get you all fitted out. We offer an in-house rental service so as soon as you arrive we can get you sorted without even needing to leave the chalet. When the time comes you can then just pick up your gear in the morning and jump straight in the shuttle that will take you up the mountain, magic!
If you don't have this service try and choose a rental shop that's nice and close to the gondola to save you lugging gear around the resort. We recommend Bansko Ski Mania and if you're nice to them they may even allow you to leave your gear there overnight. Extended opening hours can also be crucial during this period if you plan on grabbing your gear nice and early.
Make sure you pre-book lessons and have a plan to arrive on time!
This is again something we're happy to arrange. Depending on your ability and the type of lesson you're looking for, different areas of the mountain that are often forgotten can be utilised. Lessons can often start at 9 so being prepared and making sure you use one of the above travel options will save you the stress of getting to a lesson on time. Again, if you're looking for more information on some of the lessons available check out our ULTIMATE BANSKO SKI HOLIDAY GUIDE.
Pre-book your Bansko ski pass
You really don't want to get stuck in a lift pass queue before having to jump into a gondola or minibus queue. That's too many queues even for the most patient of us. If you're not able to pre-book making use of the Bansko app might be your best option.

All the information in this blog post has been gathered, tried, and tested over many seasons. We've been operating out of Bansko for more than a decade and we know all the tips, tricks, and challenges. If you're planning a group ski holiday and are considering ski chalets, then check our availability!