Everything you need to know to enjoy your ski holiday in Zakopane, Poland.
Welcome to the ultimate guide to having a ski holiday in Zakopane. Here you will learn about Zakopane as an alternative destination to the Alps for skiing. You will learn about all the fun activities you can do, places that you can visit, food that you can enjoy and nightlife that you can experience. This is the Snomads ultimate guide to Zakopane.
Table of Contents
About Zakopane – the winter capital of Poland
The small winter town of Zakopane lies in the extreme south of Poland, in its Podhale (under the mountains) region. The name Zakopane actually means 'buried' in Polish. Situated in the northern part of the Carpathian mountain range, on the slopes of the Tatra mountains, Zakopane lives up to its name in winter.
Zakopane is Poland's most famous ski resort
Nowadays Zakopane attracts millions of tourists every year. People flock to it to ski on its different pistes, or to enjoy the beautiful nature and climate. The local Podhale culture and architecture offer a unique and fascinating experience. It looks like something out of a fairy tale. A favorite part of the culture for many of the visitors is the local cuisine, consisting of many typical southern Polish dishes.
The recorded history of Zakopane begins in 1676 as a village with only 43 inhabitants. Slowly it built a reputation for a place with a healing climate and thermal springs. By the end of the 19th century, it had established itself as a health resort.
Zakopane sports a rich snow sports history
However, in the 20th century, Zakopane gained a lot of attention from ski lovers. Zakopane hosted the Nordic World Ski Championships in 1929, 1939, and 1962. It also hosted the winter Universiades in 1956, 1993, and 2001. The sports history of Zakopane also includes the biathlon World championship as well as several ski jumping world cups. Moreover, Zakopane was the first place outside the Alps that hosted the Alpine World Ski Championships.
Skiing in Zakopane
Zakopane is a great ski alternative to the Alps
Skiing in Zakopane might not be as well known as the Swiss Alps, but it comes at a fraction of the price. Zakopane has many family-friendly slopes which are perfect for beginners to learn and practice their turns. Advanced skiers can enjoy a world-class skiing experience down a three-mile-long descent from Kasprowy Wierch.
The Tatra Mountains are the highest mountains in Poland. The Tatra range is a part of the Carpathian chain that runs also through Slovakia, Austria, the Czech Republic, Hungary, Ukraine, and Romania.
Despite the fact that only 22.3% of the surface of the Tatras are within Poland, there's still more than enough space to enjoy seemingly never-ending ski touring and split boarding opportunities. Ask the guys at the chalet and they can arrange equipment and local guides to take you out on an adventure you'll never forget.
Cross-Country Skiing Opportunities in Zakopane
Zakopane also has a fully professional setup for cross-country skiing. There are routes that can be used for training purposes but will also be hosting all kinds of competitions – thanks to the approval of the International Ski Federation (ISF) accreditation. Cross-country skiing provides numberless opportunities for closer contact with nature. The areas at the foot of the Tatras, as well as Szczyrk, Bielsko-Biała, Wisła, Ustroń, and Korbielów are all recommended for cross-country skiers.
The Great Ski Jump – Wielka Krokiew
Wielka Krokiew is the biggest and most famous ski jumping hill in Poland. It has been the stage for many international competitions especially when the FIS World Cup tournament takes place in Zakopane. You can purchase a ticket and you can go to the top of the ski jumping hill via a chair lift, from here you can enjoy a large panorama of Zakopane town, you can also admire the true steel of the professional ski jumper – it's a long way down. Situated a 10/15 minute stroll from the chalet.
Zakopane Ski Area accommodates all skill levels
Today the Zakopane Tatra Super Ski Area includes over 15 individual resorts and most are covered by a single Tatra Super Ski pass, which we will talk about later. Zakopane offers access to the biggest variety of skiing in both Poland and Slovakia. This means that regardless of your skill level, you will be able to find something that suits your needs.
If you stay with Snomads, we will help you find the best ski area depending on your ability and the snow conditions. Take the guesswork out and focus on enjoying the gorgeous Tatra mountains. Below you can see some of our favorite ski areas, that are just next to our Stardust Chalet.
All skiers – Bialka Tatrzanska
Bialka Tatrzanska is Poland's largest connected ski area. Poland's largest Burton Snow Park is situated there with jibs, boxes, jumps, and other features. You can enjoy snow tubing and night skiing. There is a plethora of bars and restaurants all over the mountain. There is a geothermal waterpark and spa at the bottom of the piste. There is an annual Red Bull Bandits Run cross country race, that is open for everyone older than 16. There are multiple cross-country routes from 1000m to 5000m in length.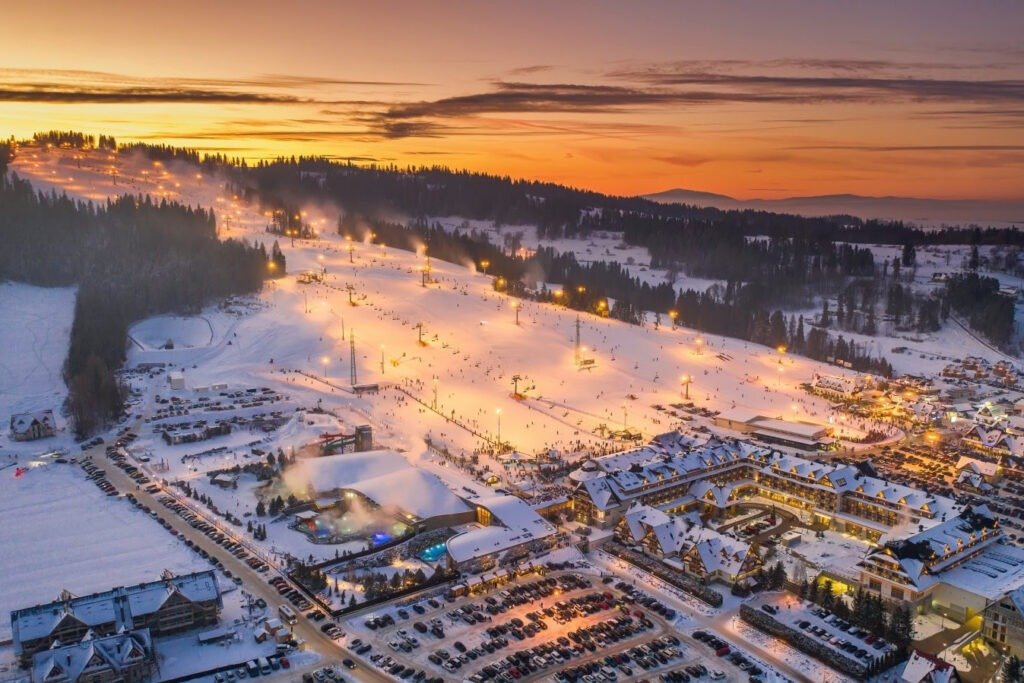 Beginner skiers – Nosal Ski Center
Beginners can learn at the Nosal ski center which is situated directly opposite our chalet Stardust. Nosal has snow cannon coverage and also allows for night skiing. It's perfect for first-timers of any age because it offers a wide range of slopes that allow you to gradually build up your skills and learn how to use drag lifts. Nosal ski center also offers a kindergarten service.
Improver skiers – Male Ciche Area
The Maleciche area offers a bigger challenge for skiers, who have already learned the ski basics. There are six wide and long blue runs, as well as two modern chairlifts to get you up the slopes. The surrounding forests are full of cross-country and walking trails. There are restaurants and bars all over the area. Male Ciche also has a separate area for beginners. Male Ciche is conveniently situated only five minutes away from our Stardust chalet.
Advanced Skiers – Kasprowy Wierch
Kasprowy Wierch is Zakopane's "Holy Mountain of Polish Skiers". This is where the most advanced skiers come to ski. At an altitude of over 1980m, there is always snow. The are has Poland's longest-running gondola, which was recently upgraded. Kasprowy Wierch offers great freeriding possibilities on both sides of the peak Gasienicowa and Gorczkowa. There are wide bowls, couloirs, tree runs, and virtually unlimited ski touring and split boarding options. Our Stardust Chalet is situated only five minutes away from all of these experiences!
The Tatra Super Ski Pass
The Tatra Super Ski Pass covers most areas in Zakopane and Slovakia, including a grand amount of over 87 ski lifts. There are only a few areas that require their own individual passes. When you arrive our team will help you create the best skiing based on your group's needs and wants.
Based on your group's abilities, the weather conditions, and how much skiing you actually want to do, we can book suitable ski passes for you online. Everything will be done quickly and easily from the comfort of the chalet, and your passes will be ready for collection on the following day. Snomads are dedicated to delivering a hassle-free ski holiday for you!
Tatra Super Ski Pass Prices
| | | | |
| --- | --- | --- | --- |
| 2021/2022 Prices | Adults | Children (under 15)Seniors (over 65) | Children under 7 |
| 1 Day | 115zł≈€26 | 105zł≈€24 | Free* |
| 2 Days | 210zł≈€47 | 190zł≈€43 | Free* |
| 3 Days | 300zł≈€67 | 270zł≈€60 | Free* |
| 4 Days | 385zł≈€86 | 345zł≈€77 | Free* |
| 5 Days | 465zł≈€104 | 415zł≈€93 | Free* |
| 6 Days | 540zł≈€121 | 480zł≈€107 | Free* |
| 3 Days in 5 Day period | 310zł≈€69 | 280zł≈€63 | Free* |
| 5 Days in 7 Day period | 480zł≈€107 | 430zł≈€96 | Free* |
| 2 Hours | 75zł≈€17 | 65zł≈€15 | Free* |
| 4 Hours | 90zł≈€20 | 80zł≈€18 | Free* |
| 6 Hours | 105zł≈€24 | 95zł≈€21 | Free* |
| 4 Hours (After 4 pm) | 85zł≈€19 | 75zł≈€17 | Free* |
* Free pass is issued to children under seven when they are accompanied by an adult buying a pass. The free pass has the same validity as the adult pass. Only one free child pass is allowed per adult.
All passes are valid for consecutive days only, with the exception of the 3 days pass in 5 day period and the 5 days pass in 7 day period.
A refundable 10zł is added to all pass prices for the hands-free electronic card.
Ski Equipment in Zakopane – Fitting & Servicing
The Snomads team has your back with our in-house rental shop. No unreasonable prices, no queues, no hassle. We'll get you fitted and sort everything out while you're enjoying a drink at the chalet. We're always updating our ski and snowboard equipment to ensure you enjoy a top-notch experience. If you need something more specialist we work with some of the best companies in Zakopane.
On arrival, our team will get you fitted as quickly as possible. Or if you've brought your personal equipment our team can service it in-house upon request. If you're arriving late at night, we will arrange everything first thing in the morning. We try to give you as much time on the slopes as possible.
You don't have to book anything extra in advance. Our team is always around to answer questions and give suggestions if you're looking to try something more adventurous while you're here. At the end of your stay, just drop everything back in the chalet. Hassle-free.
Ski lessons in Zakopane
If you're looking to get a lesson or two and build up your confidence on the slopes, then we know the right people. We work with one of the highest-rated ski school providers in Zakopane. They have experienced English-speaking instructors, they offer lessons to groups of all abilities and also keep their class sizes small. This way everyone gets individual attention from the instructors.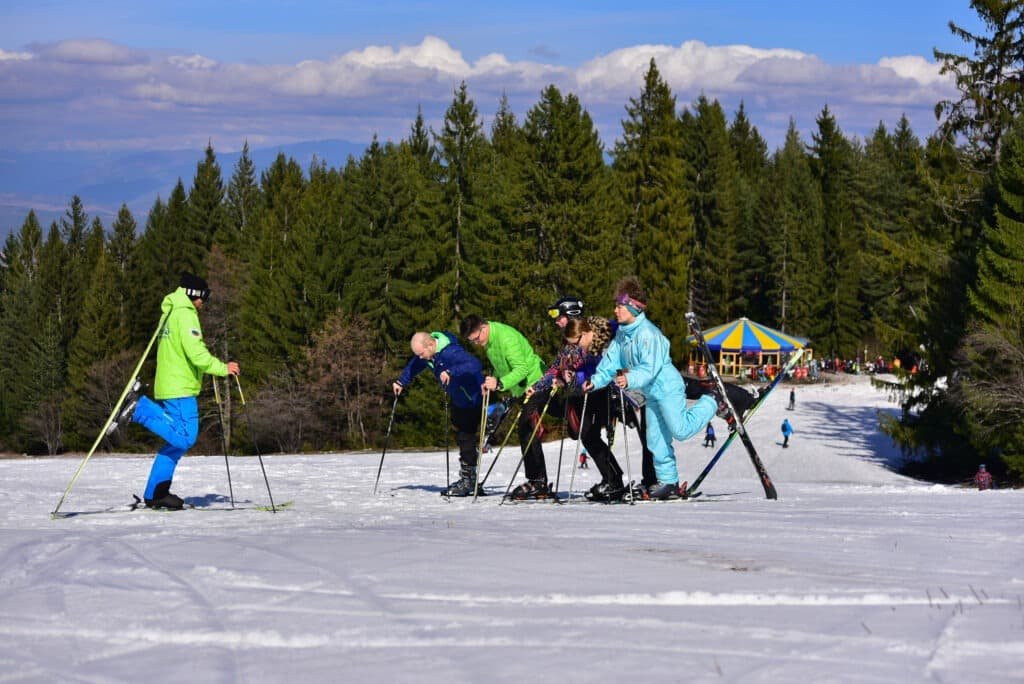 Explore Zakopane off the slopes
Zakopane may be Poland's winter capital because of the skiing opportunities, but the fun doesn't end at the slopes. There is a lot more to enjoy, explore and experience in Zakopane and the surrounding areas. Regardless if you enjoy nature, culture, cuisine, or party nightlife, Zakopane accommodates all tastes.
Explore the Snowlandia Ice Maze & Ice Sculpture Park
Snowlandia is open (depending on the snow) from late December to early March and consists of the largest Snow Maze in Poland with an area of about 3000m2 – very impressive. There's even a 15m high Snow Castle & Ice Palace which is full of incredible ice sculptures. It's a great place for kids.
The Snowlandia Ice Maze is located at the very border of the Tatra National Park. It's right next to the big ski jump at Wielka Krokiew, and a short stroll away from the Stardust Chalet.
Ride a Snowmobile/ Skidoo
For the adrenalin junkies out there there are snowmobile trips that start from the top of Gubalowka. With English-speaking instructors, professional equipment, and scenic and varied routes, it's a great way to spend an afternoon.
Go Bungee Jumping in Zakopane
This is by far the scariest thing you can do in Zakopane!! The guys that run it are very professional and most importantly patient. Diving down with the beautiful Tatra scenery in the background is a once-in-a-lifetime experience. There's a selection of great bars and restaurants nearby for a well-deserved post jump mulled wine.
Ride Up the Funicular Train – Gubałówka
If you are looking for something more relaxing, take the Funicular train up the Gubałówka mountain. You won't be disappointed once at the top. On a clear day, you will have stunning views of the Tatras and of the surrounding valleys. There's a market up top and many places to eat, drink and watch the sunset.
Explore the Nature around Zakopane and go Winter Hiking
Zakopane offers many opportunities for winter hiking. If you are looking for a more relaxing trail, that isn't physically demanding, you would enjoy climbing Mt. Nosal. It takes around 30-40 minutes to get to the top and you will enjoy a gorgeous view of the Tatra mountains there. It's an excellent place to pose for a photo! Best of all, Mt. Nosal is situated right in front of our Stardust chalet.
More experienced hikers would enjoy climbing Giewont (1895m) and Kasprowy Wierch (1987m), which are the two high-profile peaks in the Polish Tatras. You can hike both of them on the same trip if you are feeling fit. This hike takes you through the ridge of the Tatras and reveals jaw-droppingly beautiful scenery, covering woodland, high peaks, and panoramic views into Slovakia. If you also include Kopa Kondracka (2005m), the whole circular route takes about nine hours to complete.
Our favorite hike that we recommend to everyone is the one to Morskie Oko. It's the largest lake in the Tatras with 862 meters in length. Its name translates to the 'Eye of the Sea' and it's one of the most beautiful lakes in the world.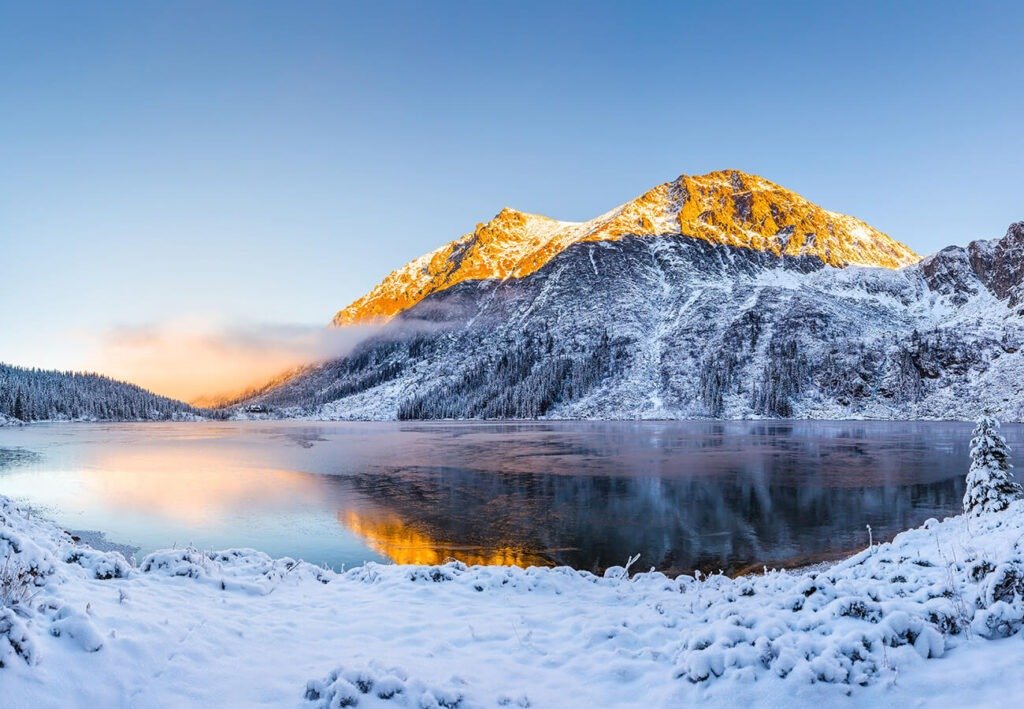 It will require a bus or taxi ride to get to the base of the trail. From there, it's about a two-hour walk through the area's impressive permaculture. The sight at the end of your walk is highly rewarding. There's also a large mountain hut at the lake for you to enjoy a well-deserved meal and drink- Nasdrave/Cheers!
Relax in the Best Hot Thermal Springs
One of the perks of spending time in the Tatras is the huge number of natural hot springs, rich in minerals that help the muscles relax after a hard day of physical activity. Surrounded by mountain views in picturesque villages you can unwind in hot thermal water and experience true bliss with a drink in hand.
There's a thermal spa right at the bottom of the piste for tired skiers. Among the most famous thermal spas in Zakopane is Terma Bukowina, located in Bukowina Tatrzańska village, which is around 25 minutes from Zakopane.
Some other detoxifying thermal spas are situated in Chocholow, Szaflary (Our personal favorite and one which we can arrange transport from Chalet Stardust), and Białka Tatrzańska – one of the many enchanting villages situated in the Tatra mountains.
Experience Polish Tradition
Take a ride on the traditional Horse Sleigh Kulig and enjoy a BBQ night with the Snomads
Take a trip back in time and explore the secluded villages, hidden in the mountain valleys. You can get glimpses of the traditional rugged life in the Polish villages. Experience nature away from the crowds of travelers – streams, forests, winding snow-covered roads. The whole Kulig journey will leave you truly enchanted.
One of the villages which we definitely recommend visiting is Zab. It is known for its excellent location overlooking the majestic Gorce, Tatra, and the Babia Gora Mountain Ranges. This setting offers an evening of magical scenery, which can only be topped up with Snomad's tantalizing BBQ.
If you wish to experience this excursion during your stay with us, you only need to contact our friendly team. We always enjoy delivering unforgettable moments for our guests.
Attend the Highland Folklore Festival
Zakopane is also known for the Highland Folklore Festival, which is usually held in August. Initially, it was a casual gathering of the main local folk groups from the surrounding highland mountains. However, the idea of conserving the culture eventually made it into an incredible folklore festival, one of the unique events not only in Poland but also in the whole of Europe.
Enjoy the Zakopane-Style Architecture
Zakopane has its very own architectural style. The buildings are known to embrace the spirit of Podhale. Stanislaw Witkiewicz is known as the creator of the style, having transformed the town in the late 1800s. He set out to prove that traditional Podhale architecture is just as good as Swiss or German alpine styles. Wood rounded windows, and detailed embellishments can be seen on the homes throughout the city center.
Take a walk down Krupowki Street
One of the top things to do in Zakopane is simply strolling along its main high street – Krupowki. This is the heart of the town. This pedestrians-only street stretches for over a kilometer, beginning at the starting point of the Gubalowka funicular ride station.
Whether you are here in Zakopane in winter or in summer, you will find this street bustling with locals and tourists. Dining at many amazing restaurants and bars or unwinding in those adorable cafes. Local band performers will entertain you at night.
Krupowki is the best place for people-watching and soaking up the charm of this town. Conveniently you can also sample some of the best sausages, soups, and bread Zakopane has to offer here.
If you are in Poland for Christmas, you will find an additional Christmas market with decorated wooden chalets, Christmas trees, carols, food shops, rides, and more. The street will be transformed into an enchanting Yuletide paradise.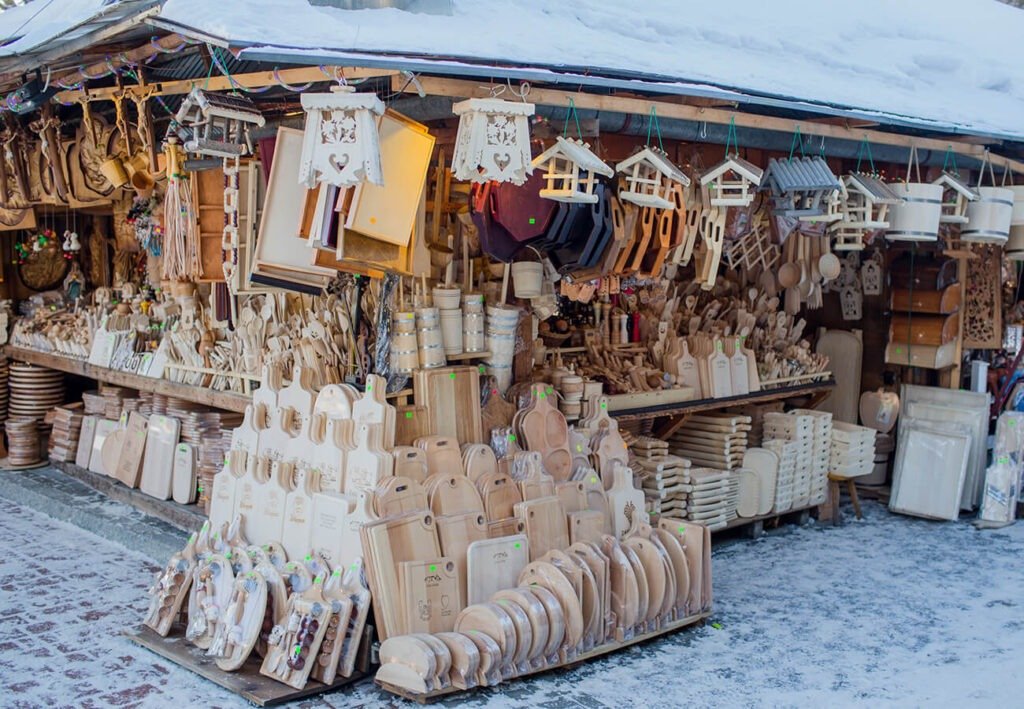 Enjoy Southern Polish cuisine
The cuisine and drinks in Poland are exquisite and perfectly suited for those winter days on the mountain. Zakopane town itself is jam-packed with traditional taverns serving all sorts of delicacies. You can have an awesome experience in the restaurants on Krupowki street, as they are very tourist-friendly.
However, if you are looking to try something more local, you should try some of the local milk bars and taverns. We've prepared a list for those who are wondering what local dishes to try first. Polish cuisine is rich in taste and offers a great variety of delicacies.
Traditional Polish soups
We're starting off our food guide with soups because few things can beat a hot bowl of soup on a cold winter day. Especially, if you have spent it skiing on the slopes or exploring snowy landscapes. Polish winter soups are rich in taste and extremely satisfying for cold and weary travelers.
Zurek
Zurek is one of the most Polish soups. Its rich flavor consists of bacon, kielbasa sausage, carrots, onions, garlic, parsley roots, and freshly ground pepper. To make it more nutritious, it also has sour rye and heavy cream. A variety of spices add even more richness to the flavor. To top it off it's served with a boiled egg. This soup is a whole meal!
Rosol
Rosol soup is another traditional Polish soup. It's made with clear chicken broth, that is poured over noodles along with chopped carrots, parsley, and pieces of chicken. This is an excellent soup to try if you are feeling under the weather. Some locals swear by its healing power. Varieties of the soup also include onions, celery root, parsnips, leek, and cabbage. Topped off with complimentary spices, this soup is an excellent choice for travelers.
Tripe Soup
Those whose tastebuds are feeling truly adventurous should try the local tripe soup. In the rugged Polish mountains, nothing goes to waste, including the meat from an animal's belly. The meat is cooked for six hours to remove any impurities. Polish tripe soup is traditionally made from beef, carrots, celery, and a lot of spices. Tripe has a very distinct smell and taste and you will either love it or hate it. But we do encourage you to try it.
Traditional Smoked Polish Cheese
In the mountainous Podhale region, where crops are hard to grow, animal husbandry flourishes. This means that people in Zakopane have been perfecting their cheese traditions for centuries. Cheese is an essential accompaniment to any traditional Polish lunch or dinner. There is a variety of cheeses to try, but if you had to pick only one, we would recommend Oscypek.
Oscypek
Oscypek is Zakopane's famed smoked cheese made from sheep milk. It is made using an ancient recipe that is followed exclusively in the Tatra mountains. Oscypek is made by expert sheep shepherds. The first official recipe of Oscypek dates back to 1748. It is usually served warm (sometimes pan-fried) and it goes surprisingly well in combination with marmalade.
Pierogi Dumplings
Pierogi are widely spread in the cuisine of Central and Eastern Europe. They come in a wide variety of shapes, fillings, and flavors. In Poland, there is a special kind of Pierogi for every holiday. Poles love their pierogi. They can be stuffed with potatoes, cheese, herbs, cabbage, mushrooms, buckwheat, millet, and all sorts of meat. There are also sweet pierogi with blueberries or other forest fruits. Pierogi are best served with heavy cream and dill as a decoration. Every restaurant in Zakopane puts its own unique spin on its Pierogi plates, so we encourage you to experiment and explore the variety of local Pierogi.
Where are the best places to eat in Zakopane?
The area in and around Zakopane is filled with restaurants and taverns. You can always find a place to eat, drink, and get warm on the cold winter days. Yet, having so many choices can be torture for any newcomer. That's why we've prepared a list for you of some of our favorite restaurants and eateries
Drukarnia Smaku Cristina / Polish cuisine /
if you want to eat a meal in this restaurant, make sure you book a table in advance tel.: +48 662 833 833 – Plac Niepodleglosci 7
U Wnuka / regional inn /
the oldest restaurant in Zakopane – Kościeliska 8
Dobra Kasza Nasza
Just delicious – Krupówki 48
Casa Mia / tiny, romantic restaurant /
the second on the Trip Advisor list – Krupowki 69
Gospoda Kolibecka
very popular among local people, tasty roasted trout, dumplings with spinach and żurek soup – Jana Pawla roundabout
Karczma Sabała / regional inn /
tasty meals and good highlanders band – Krupówki 11
Bąkowo Zohylina Wyżnio / regional inn
I recommend highlanders mixed plates for 2-4 people – Piłsudskiego 28a
Bar Mleczny / traditional polish fast food
competitive prices, good meals, always crowded, Zamoyskiego 5
U Slonia (at the Elephant :)) / cheap, simple dishes
the shabby looking tiny bar offers good quality and very cheap food, Zamoyskiego 20
Samanta / cafe
large selection of desserts, Witkiewicza 2, Krupowki 4 and Kasprusie 34
Da Adamo / restaurant, pizzeria
specialty – pizza, ribs and pork knuckle – Nowotarska 10d
Trattoria Adamo / restaurant
Italian and European cuisine, children's corner – Plac Niepodległości 1
Gospoda Podkowa / polish cousine
tasty and cheap meals – Nowotarska 7
Cefeteria Żarneccy / cafe
the best icecream in Zakopane – Krupówki 48
Restaurant Halka in Hotel Aries
combination of modernity and local tradition – Zaruskiego 5
Czikago Grill Bar & Pizza
family run, cosy restaurant – very good pizza and hamburgers, Witkiewicza 21
Leśniczówka u Zięby
small, cosy restaurant with nice garden – entrance to Chocholowska Valley
Nightlife in Zakopane
After you've filled your belly with delicious food it might be time to do some late-night exploring. Zakopane has over 30,000 full-time residents and is Poland's premier mountain resort. As such, it boasts great opportunities to enjoy the nightlife. The ski slopes are open until around 9 pm, so the nightlife usually kicks off after that.
Food and drinks are about twice cheaper as compared to the French, Austrian, and Swiss Alps. You can expect to pay around £2 for a large beer in Zakopane. The drinking possibilities here come in a variety of sizes and qualities. From the ubiquitous bar with chart hits played from bad speakers to international DJs playing in elite nightclubs.
A great start to your night out would be at Krupowki street – the beating heart of the town. It stretches over a kilometer long and is filled with shops, restaurants, taverns, hotels, and bars. At the height of the season, the atmosphere here is vibrant and lively. The place is full of portrait artists, street performers, horse sleighs, and the aroma of Southern Polish delicacies in the air.
You can't really go wrong when choosing a bar to enjoy a pint in. We particularly recommend the high and mighty Nietota as a good bet for a delicious beer and great vibes. Or walk a few minutes off the beaten track, on Generala Galicy, where you will find the Zakopane branch of Paparazzi. It offers a more upbeat, party atmosphere, with DJs playing late at weekends. However, our humble pick for the coolest bar in the whole of the resort is Caf Piano
Best Clubs in Zakopane
Winter is peak time for Zakopane, locals, and foreigners descend in their thousands for a spot of skiing, snowboarding, and partying. If you come in early Spring the town quietens down a bit before the summer crowds arrive for some of that mountain air.
During the high season expect many holidaymakers to enjoy the pubs, taverns, and clubs whereas a little later on in the season it might only be you and the locals on the dancefloor. Either Way, there's a lot of fun to be had in Zakopane.
Zakopane might not be Warsaw or Krakow, but it still has a well-deserved spot on Poland's nightlife party map. There's almost never a bad night at Dworzec Tatrzanski, which is one of the best clubs in Zakopane.
There is also the White Nights festival when the party doesn't stop between Christmas and New Year's Eve. As far as music goes, think nu-jazz, ragga, a world that accompanies the regular house, breaks, and drum & bass nights throughout the season.
This eclectic programme brings people from as far as Warsaw and nearby Krakow to mash it up on the dancefloor. If the dancefloor gets too much there is a wonderful chill-out room. Its theme is Arabian nights because you will find cushions and shisha pipes that offer a nice break from the beat. If you're in town just keep an eye out for posters with the famous fish logo.
In 2005 Va Va Voom entered the nightclub stage. It's a high-end-looking venue spread over two floors. It's definitely worth a look if you're after a slightly alternative dance music.
Also situated among the fairytale streets of Zakopane we have Rockus, where lovers of live music flock for an enjoyable evening.
For the shameless and sometimes fun and trashy nights, we have Morskie Oko (on Krupowki street) and Genesis (Plac Niepodleglosci), they have all the lasers, bells, whistles, girls, and boys you could wish for.
With this list of clubs, we consider our guide to places, activities, and experiences in Zakopane to be exhausted!
We hope you enjoyed the read
We had a lot of fun putting this guide together and we hope you found it interesting and useful. As you now know, Zakopane offers a huge amount of activities. There is something for everyone, regardless of age or taste. It's a town with rich history and tradition. It represents its own fairytale world hidden in the Tatra mountains. We hope you come and explore it yourself.
If you decide to bring some friends over and you're looking for a bed and breakfast ski chalet, then please consider our Stardust chalet. The Snomads team is always happy to help and deliver unforgettable experiences on and off the slopes.