January 2019
by Sian Lewis
Sian Lewis heads for Bansko, in Bulgaria's Pirin Mountains, to see if going Balkan is better on a budget
There's a new value ski destination in town, and it's a far cry from the Alps. Bansko, Bulgaria's biggest ski resort, is fast becoming a favourite with families and groups of cash-strapped but snow-mad friends alike due to its palatable prices.
A ski holiday here can cost less than a quarter of a similar package in St Anton, and yes, the rumours are true – a pint of beer really does cost 90p. So is Bansko really worth going budget for? I'm spending a week at Chalet Snomads (for a grand total of under £500, including flights, accommodation, food and ski pass) to see if it really is better in the Balkans.
Bansko Bound
Fly into Sofia and it becomes apparent that you're not in the Alps anymore. It's a two hour ride from the capital to Bansko, and the  road plunges into thick forest. I ask our driver if there are wolves in these woods. "No, but Little Red Riding Hood could easily get eaten by a bear here – we've got brown ones", he grins. Bansko sits on the edge of the lovely Pirin National Park, but the town itself isn't much to look at on the outskirts – my first glimpse is of dusty building sites and a gaudy main strip lined with souvenir stalls and nightclubs. But we drive into Bansko's medieval town centre and things are very different – beautiful wooden houses lean benevolently over the road and horses and carts trot along UNESCO-protected streets. This Jeckyll and Hyde of a ski town sits at the bottom of the snow-clad Pirin Mountains.
I'm here in April and there's no snow in Bansko itself this late in the season, but from the main gondola station in town a long lift carries skiers up and into the heart of the ski area, still covered with plentiful snow.
Snomads is full of quirky, retro touches and Bansko full of Surprises.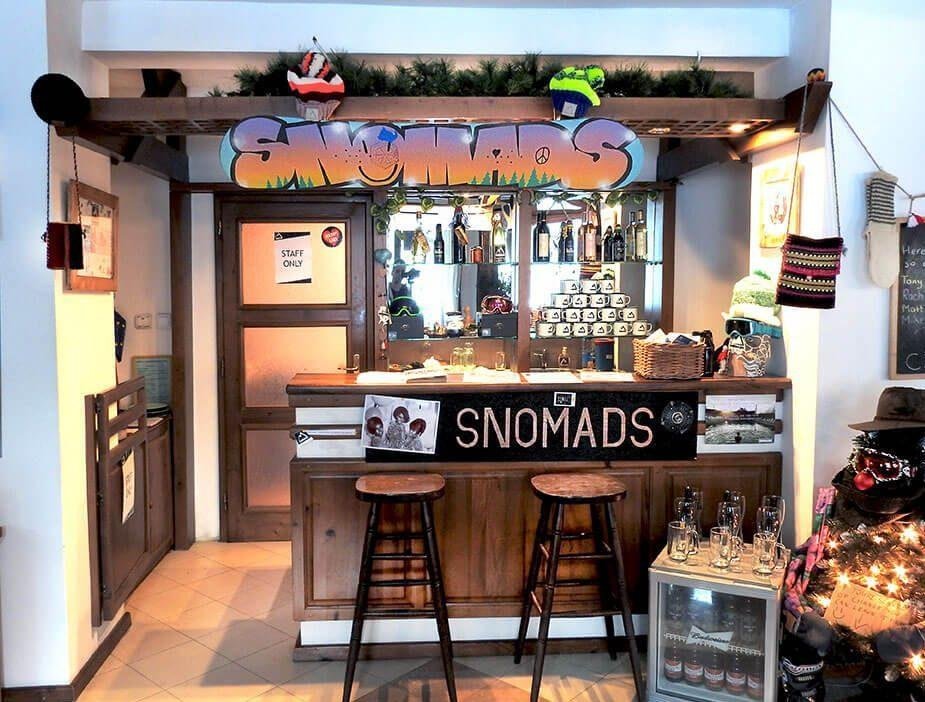 Pines and pints
The resort isn't huge, but its got all you need for a week of happy snow hunting – 75km of tree-lined pistes include plenty of blue runs, fun reds and challenging blacks, all unusually beautiful and quiet. Skiing is up to 2,600 metres and 90% snow cannon coverage means Bansko is snow sure, even this late in the season. Ski roads and tracks and a cross-county circuit are perfect for would-be ski tourers to cut their teeth on, and I love the off-piste routes through the trees – there are untouched runs to be had where no-one has ventured between the pines, and at a gentle enough gradient to suit me, an off-piste newbie. We stop for a picnic lunch in a forest glade – we're not far from the pistes but it still feels like we're sitting in a fairytale illustration.
There's a friendly, chilled vibe on the mountain and a youthful, international crowd in residence, probably attracted by the fact that, for once, you can go for beers mid-ski without having to remortgage your house. Everyone seems to converge on the buzzy on-piste BlaBla Bar (complete with a resident cat named Lady BlaBla), where a few 90p beers make the cheesy Europop blasting out of the speakers rather appealing. It's easy to escape the party for peace and quiet, too – pretty wooden chalets half-hidden in the woods serve up delicious meatballs and noodle soup to hungry skiers and boarders, all for pennies.
There's plenty of cheap accommodation in town to match Bansko's bargains reputation. But there's more to staying here than going basic – low rental prices means that Bansko has space to host startups and cool catered chalets. We're staying with Snomads, whose quartet of eco-friendly catered chalets were started in 2012 by three British friends with dozens of ski season under their belts, aiming to create a comfy, quirky and fuss-free base for skiers and boarders. Maks of Snomads says: "we finally found a spot with amazing backcountry, culture and food – and where we could afford to ski!"
Their largest chalet Diana-Ross, may look like your usual Alpine hotel from the outside, but inside it feels like a city hostel, complete with retro games room, cold beers on tap and a disco banana hanging from the ceiling. The best bit is the incredible food the friendly staff manage to rustle up every night (breakfast and six dinners are included in a weeks stay). It's all locally sourced, organic and unerringly fantastic. And there's unlimited wine and homemade rakia to wash it down with.
Hit with a whiteout day? The Snomads guys know the best secret spots. On our last day they whisk us to a wonderful hot spring in nearby Banya, where we laze away an afternoon in water as warm as a bath. If you think you can't ski in style without splashing a ton of cash, think again – you just have to swap the haughty Alps for Bulgaria's chilled out charms.
SNOWHOW
Getting There
Ryanair fly to Sofia from London Stansted from £37 return. Transfers to and from Bansko are included in a Snomads stay.
ryanair.com
Getting Around
It's easy to walk around Bansko's town centre and taxis are plentiful and cheap. A weeks ski lift pass costs £145 per person.
Food and Drink
Food in Bansko is delicious and has Mediterranean influences. A three-course meal in a traditional restaurant can cost as little as £5.
Where to Stay
Snomads' Chalet Diana Ross sleeps 25, Chalet Supreme 10 and Chalet Prince sleeps 20. All can be booked by an entire group, in smaller numbers or individually.
A week half-board with Snomads starts from £269. snomads.co.uk
IN NUMBERS
92p average cost of a pint of beer in Bansko town
£5 Traditional three-course meal
£37 Return flights