12 Mistakes Made By Ski Beginners
There's a learning curve when it comes to skiing, snowboarding, and planning a trip to the mountains. First off you need a resort that caters to beginners; Bansko and Zakopane are good places to start, with plenty of beginner slopes and enough gentle blues as you progress.
As experienced skiers, we've seen all the rookie mistakes (and made most of them when we started too). But you don't have to make the same mistakes. With winter just around the corner (fingers crossed), many are already planning their first trip. If you are one of those looking to take advantage of the great outdoors by skiing this winter, here are 12 beginner mistakes to avoid making.
1. Don't Forget the Sunscreen
Sunburn? In the middle of winter? Believe it or not, ski slopes are an excellent place to get burnt. The altitude plus the effect of the sun reflecting off the white snow combine to give skiers a lovely tan, even on cloudy days in December! No one wants to be burnt to a crisp though, it's painful and definitely isn't cool, so wear good sunscreen and lip balm.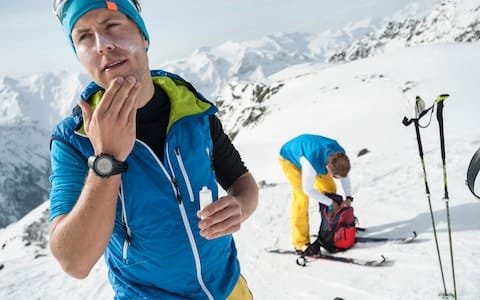 2. Using Bad Gear for Skiing
You don't even know if you like skiing yet, so you decided to cobble some odds and ends together instead of investing in your own. Ankle socks, sunglasses instead of goggles, and some old skis you found in the attic – what could go wrong? By the end of day one, your feet and shins will be aching. When the wind picks up, you'll regret not having goggles. And is it just you, or are these old skis impossible to turn? Do yourself a favour and at least rent proper gear if you don't want to buy it! It's easy too with our in-chalet ski fitting service.
3. Wearing Jeans or leggings
Wearing jeans, or anything cotton, for that matter is a surefire way to advertise that you have no idea what you're doing. Those new to skiing are also guaranteed to wind up cold, wet and miserable in jeans. Cotton may be the least waterproof material available, it absorbs moisture extremely well and stays wet for days.
Even if you're not sure snow sports are for you long-term, invest in a solid pair of waterproof ski salopettes (trousers) and a waterproof jacket. And if you pick a jacket actually designed for skiing, you will be rewarded with the luxuries of a powder skirt that buttons around your waist to keep snow from getting up your back every time you fall. Alternatively use ours in chalet Retro Rental offering, bright old-school onesies actually designed for skiing!
4. Too Much Alcohol
In the cold winter weather, a mulled wine, warm coffee or hot chocolate with a dash of rum might sound very attractive. But try to cut back on the alcohol, because overconfidence and beginner skiing skills can easily equal disaster. Save that frothy pint of mountain beer for après-ski, or enjoy one of our craft beers back at the chalet.
5. Leave the sunglasses in the chalet
Sunglasses look cool, but they slide off, don't keep your face warm and don't keep the wind, or snow out of your eyes. Basically, all things ski goggles are designed for.
If you're a beginner, there's no need to buy the most expensive goggles on the market, but getting something specifically designed for skiing will make your time on the slopes significantly more enjoyable than falling and breaking those expensive sunglasses. A solid investment.
6. Getting Cold
You don't have to be cold when you're skiing, even when it's minus 20 degrees without the windchill! Being cold is one sure way to end up hating skiing. But we live in a world of insulated fabric and battery-powered socks, so there's no reason to be cold while skiing.
Before heading out, make sure you check the forecast air temperature and wind chill factor and dress accordingly.
A good base layer, medium weight fleece and waterproof ski jacket will keep you warm enough for almost any reasonable winter day. And instead of cutting off the blood circulation to your feet by layering three pairs of socks on top of each other and ramming them into your boots, get one good pair of wool ski socks. Keep in mind that you will get warmer when you actually start skiing, so don't overdress and end up wearing sweaty and, as a result frozen layers all day.
7. Rucksack Caught In a Lift
We strongly recommend against skiing with a backpack as a novice skier or snowboarder, especially if you plan on taking the chairlift. If you're not careful, the bag can get stuck on the chair, leading to some unfortunate, painful, and embarrassing scenarios. Make your experienced friends carry your stuff for you, or if you must take a rucksack be sure to take it off before you get on the lift!
8. Heading Straight for the Black Run
Confidence is great, and definitely helps you when you're learning. But as the old saying goes, don't run before you can walk. Maybe you've skied on an indoor slope a couple of times, used to skateboard or are a surfing champion. You have great balance. But that doesn't mean you're ready to tackle the steepest runs in the resort.
Equally, making perfect turns on a blue or green beginner slope doesn't mean you're ready for the steep stuff either. Start your day on some gentle blue runs, work your way up to some intermediate reds and then only if you are confident attempt something steeper. Trust us, even experienced skiers don't head straight for the steep runs, they warm their legs on something less demanding first.
9. Stopping in the Middle of the Piste
Only slalom skiers like weaving all over the piste. No-one else likes playing slalom weaving round people standing all over the runs. Plus it's downright dangerous. If you need and want to stop, do so at the side of the piste. If you fall, get yourself up as quick as you can and move to the side. If you're waiting for your slower friend, do so at the side. If you come across the Instagram view of the year, take that photo from the side. If you need to check the piste map…you get the idea!
10. Take care of Your Gear
After a great day on the mountain you'll be on a high, but will be tired and only too happy to remove your ski or snowboard boots and get inside our warm chalets. Don't just leave your boots in the doorway of the chalet though, or even worse outside. Spend a few minutes opening them up and leaving them somewhere warm. You'll be glad of this the next day. Instead of ice cold, wet and stiff boots you'll have dry, and warm boots that are much easier to put on. Simple pleasures!
11. Accidentally Ending up on the Wrong Run
Every skier has done this, and still does if they're in a new resort. The difference is that for those experienced it doesn't really matter. But if you're new and only just starting your first Blue runs, ending up on a Black that is way above your ability level won't be fun. Grab or download a piste map before you leave the chalet and check it regularly throughout the day. Before you take a lift up, make sure there's an easy option down. If however you end up at the top with no suitable route, head back to the chairlift and indicate you want to take a ride back down. The lift guys will help you jump back on and you can then enjoy the view going down the mountain!
12. Thinking You're Alone
There's a big learning curve if you've never skied before. We all fall over, make big zig zagging turns over that favourite almost flat run, and go super slow at first. Just remember that just like driving a car there are others on the road (piste) too. They might have more experience than you and be flying down the mountain.
Before merging onto another piste, or cutting across one to join another, look uphill and be aware of others. Of course this goes for those experienced ones flying down at speed too, be mindful of others trying to learn the best Winter sport!