Situated at the foot of the majestic Tatra mountains, with 30,000 full time residents Zakopane is a relatively large town compared to other ski resorts the Snomads team have visited, it is also Poland's premier mountain resort.
When it comes to exploring Zakopane's nightlife it's easy to take a wrong turn and end up spending the night in a trashy and ubiquitous bar setting listening to chart hits played loudly out of bad speakers.
Turn right and you could end up in one of Poland's best night clubs listening to tunes mixed by international DJs, deep in a good time crowd, and sinking shots with the best of them.
As with everything else in Zakopane, food and drink are extremely good value. The average price of a large beer compared to other better-known ski resorts in Europe is far cheaper – a beer in Zakopane is around £1.50 where you would expect to pay upwards of £4 or £5 in France, Austria, Switzerland.
There are a few bars in Zakopane that are "only bars" in that they only serve drinks (as you would expect), however, what there also is are a lot of restaurants situated in and around the town centre. People often go into these restaurants just to sit, relax and drink, then if you're feeling peckish you can always order some bites with your beers.
The ski slopes here are open until around 9 pm every day, this means you can get the chance to enjoy the nightlife on offer and still get your time on the hill during your WInter holiday in Poland.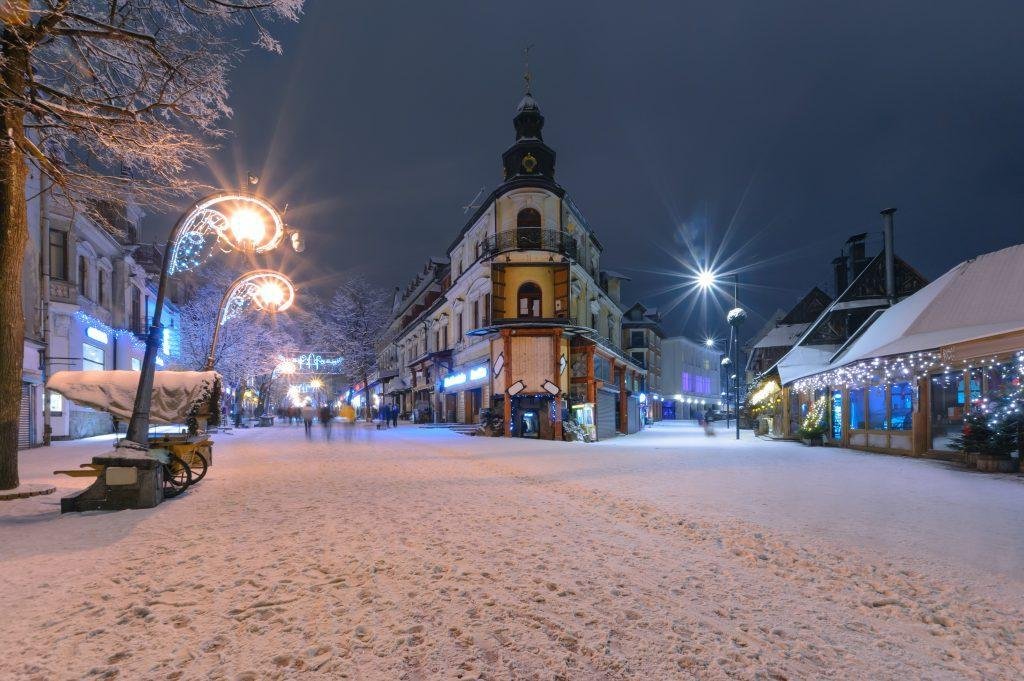 Best Bars in Zakopane
Like most good things in Zakopane, Krupowki street makes an obvious start to any night out. It really is the heartbeat of the town.
Krupowki is the central and the most representative street of Zakopane, it stretches over a kilometre in length with a promenade lined with a wide selection of shops, restaurants, taverns and hotels which attracts thousands of visitors all year round.
This central attraction of Zakopane has an unrivalled atmosphere, especially at the height of the summer and winter seasons. The street is always vibrant with life and good times.
It is here that you can see portrait artists, watch street performers, hear the horses trafficking people around via sleigh and there's always the delicious aroma of the famous Zakopane mountain cuisine in the air.
Most of the bars fall into the sometimes fun and occasionally naff category, however the high and mighty Nietota is a good bet for a delicious beer and great vibes, whilst Caf Piano is arguably in our humble opinion the coolest bar in resort.
Walk a few minutes off the beaten track, on Generala Galicy, the Zakopane branch of Paparazzi offers a more upbeat, party atmosphere, with DJs playing late at weekends.
Best Clubs in Zakopane
When it comes to the variety of clubs in Zakopane, you have to remember it's not Warsaw or Krakow, however with Dworzec Tatrzanski we not only have the best club in Zakopane but it's up there with the best in the whole of Poland. There's almost always a good night going on here, whatever day of the week. There is also something called the White Nights festival when the party doesn't stop between Christmas and New Year's Eve. As far as music goes, think nu-jazz, ragga, world which accompany the regular house, breaks and drum & bass nights throughout the season. This eclectic programme brings people from as far as Warsaw and nearby Krakow to mash it up on the dancefloor. If the dancefloor gets too much there is the wonderful Arabian nights chill out room where cushions and shisha pipes are a nice break from the beat.
If you're in town just keep an eye out for posters with the famous fish logo.
In late 2005, we welcomed the arrival of a new player in the club scene – Va Va Voom. A high end looking venue spread over two floors. It's definitely worth a look if you're after a slightly alternative dance, Va Va Voom is a very welcome addition to Zakopane's nightlife.
Also situated among the fairytale streets of Zakopane we have Rockus, this represents a surprisingly good night for those who hate dance music and love live music.
For the shameless and sometimes fun and trashy nights we have Morskie Oko (on Krupowki street) and Genesis (Plac Niepodleglosci), they have all the lasers, bells, whistles, girls and boys you could wish for.
Winter is peak time for Zakopane, locals and foreigners descend in their thousands for a spot of skiing, snowboarding and partying. If you come in early Spring the town quietens down a bit before the summer crowds arrive for some of that mountain air.
During the high season expect many holidaymakers enjoying the pubs, taverns, and clubs where as a little later on in the season it might only be you and the locals on the dancefloor. Either Way there's a lot of fun to be had in Zakopane. Nazdrave!