If you're new to skiing or snowboarding, planning your first trip away can be daunting. What time of year to travel, what to pack, and where to go are all things we're very experienced in and are always on hand to help advise. As there are many options we've put together a shortlist of reasons why Bulgaria's Bansko is a strong contender if you're ready for your first skiing experience.
So, why learn to ski in Bansko?
1. Price of learning to ski in Bansko
Learning to ski can be an expensive undertaking but having been voted one of Europes best value resorts, skiing in Bansko is a great way of introducing yourself to the sport without breaking the bank. Resorts are judged on all-round price, including rental gear, ski passes, lunch, and drinks on the mountain as well as accommodation. So you can be confident you won't have to spend a fortune on your first time.
2. Lessons in Bansko
When starting out, getting some tips early on is highly recommended and can help to avoid a lot of frustration, making everything a lot more enjoyable. Starting out, not quite knowing if you'll take to skiing, and overspending on lessons is definitely something that can be avoided in Bansko. Whether you want private or group lessons the price comparison to some of the more well-known resorts in the Alps is staggering.
To give you an idea, in Bansko we work with Bakso Ski Mania who offer 5 days of group lessons (4 hours a day) for around £130, whereas in Courchevel, France you're likely to pay closer to £350 for the same service. Naturally, if traveling with a family of learners the savings rack up very very quickly!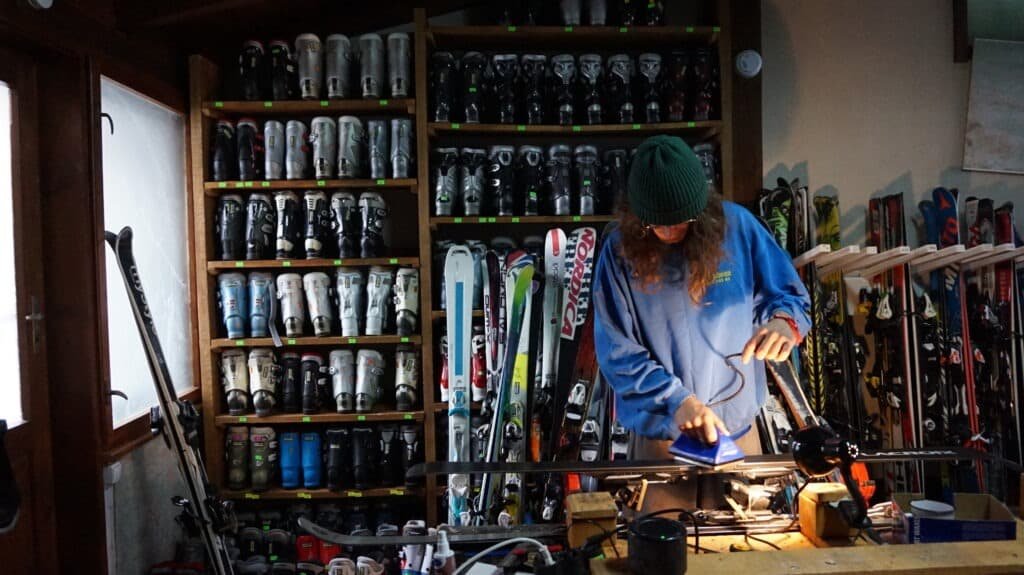 3. Snomads in house rental service
Renting ski gear for the first time can also be daunting and has always meant heading to a rental shop and entering into a time-consuming process that ends with trudging all the clunky gear back to the chalet. If you're new to the whole thing, avoiding a potentially lengthy, stressful process is a must. Thankfully it's easy to avoid with our in-house rental service. No need to leave the chalet, just pop into our rental store right next door with a beer or a glass of wine and let us do the hard work.
4. Affordable ski rental gear
This is a simple one and jumps back to making your first experience affordable. When learning, there should be as little stress as possible, with money included. The less you spend on rental gear the more you can spend on treating yourself to celebratory beers after a day of successful lessons. Find all the information about our equipment hire prices. For more specialist work we work with Bansko Ski Mania.
To give you an idea, we rent out adult skis, poles and boots over 6 days for £66 whereas you'll be looking to pay around £150 in some of the larger Alpine resorts.
5. Easy and affordable travel to ski in Bulgaria
Let's face it, everyone wants an easy journey whether experienced or completely new to the game and with direct flights from all over the UK to Sofia (Bulgaria) getting out to Bansko is nice and straightforward. You can learn everything you need about your ski holiday in Bansko.
Depending on which part of the season you're looking to travel, flights can cost as little as £50 return with many airlines giving a multitude of options making it a great destination for a first-time holiday. We recommend using the comparison site SkyScanner to get the best prices or go directly to British Airways or Bulgaria Air to get what suits you best.
To make things nice and easy, when you arrive we'll be at the airport waiting for you, ready to whisk you off to the chalet.
6. Some of the best learner friendly ski runs
If you're completely new to skiing you may not yet have learned the simple ski run colour system that helps shape and guide skiers through resorts. New to Ski do a very good job of explaining the system in a bit more detail but briefly: ski runs are marked by a colour that defines their difficulty, enabling all levels of skier to plan which runs they might want to attempt and which ones would be sensible to avoid. Colours run through green to blue, red, and black with the latter being the most difficult.
Bansko is great for beginners as it has a number of very accessible, long blues which are great when stepping foot on skis for the first time (check out Bansko piste map). Not only does Bansko have a number of lovely blues with great views, but it also boasts a HUGE 5k blue run that extends from the top of its gondola to the bottom. You'll even find bars on the way down making it a great place to practice and enjoy at the end of the day.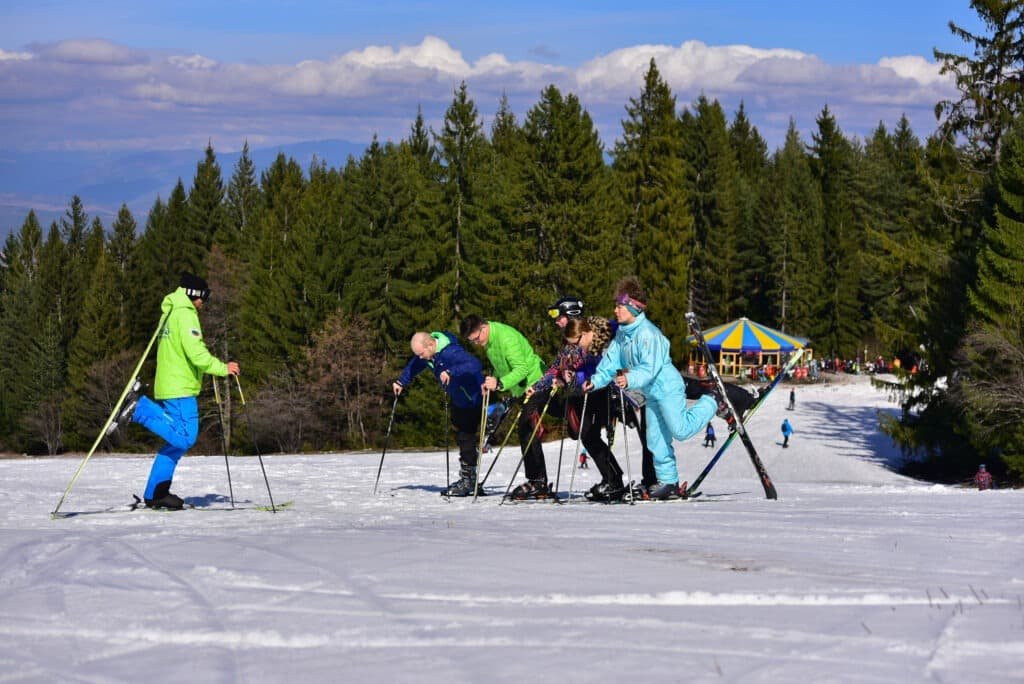 7. Things to do in Bansko if you're not skiing or snowboarding
Skiing and snowboarding are very physical sports and if the muscles simply aren't up to the job we think it's important that there are alternative activities in resort if you fancy taking a day or two off. You can read up more info on alternative activities in Bansko if you're not skiing, but one that absolutely shouldn't be missed is the geothermal springs that Bansko's surrounding area boasts. 
Imagine sitting back in a naturally heated pool, sipping on your nice cold drink waiting to have a relaxing massage with snow all around you. We're pleased to say that this is very achievable as we run weekly excursions to Izgreva spa in Banya where you'll leave refreshed and ready for another day of skiing.
We've welcomed skiers of all abilities over the years, one of which was Yari, a complete novice whose lovely blog sums up the experience of a first-time skier in Bansko.
Conclusion
Bansko is a great ski resort to learn how to ski. It's a place where beginners can learn and challenge themselves in a variety of ways. Moreover, learning to ski in Bansko is very affordable. If you're looking for options to book a group holiday, you can consider our ski chalets in Bansko!