Whilst we all wish that planes would suck out Carbon Dioxide and all the other nasty gases that we pump into the atmosphere whilst flying us to our holiday destination this simply isn't yet the case. For a long time, the tourism industry hasn't taken any responsibility for the global impact flying and accommodating millions of people from all over the world has had on the planet. This along with the belief that we could do things better led us to create Snomads back in 2013. Having worked for larger touring companies we were able to see firsthand the negligence that goes on not only by the larger companies but by the guests that would join us week on week.
This year we will be running 4 chalets, hosting up to 70 guests a week, and are proud to say that this year we are aiming to end the season carbon neutral whilst pushing other projects that aim to push us into being climate positive. Since starting out in a small 10 man chalet where all the heating/hot water and a lot of the cooking was done on an open fire we've had to move on to ensure our company remains environmentally conscious and here are some of the very simple ways we've done this.
Our menu is seasonal and locally sourced: this has huge benefits as our ingredients don't rack up any travel miles, aren't produced in heated greenhouses but also give us the opportunity to work with the tastiest and freshest ingredients. Our meat comes from a local butcher, our fish from an organic mountain fish farm, cheese from a local dairy farmer, and our vegetables from the local market week by week. We make and preserve all our own jams and chutneys, bake our own bread, and source local organic wines for our evening meals. Consequently, our menu has a low carbon footprint benefiting all involved.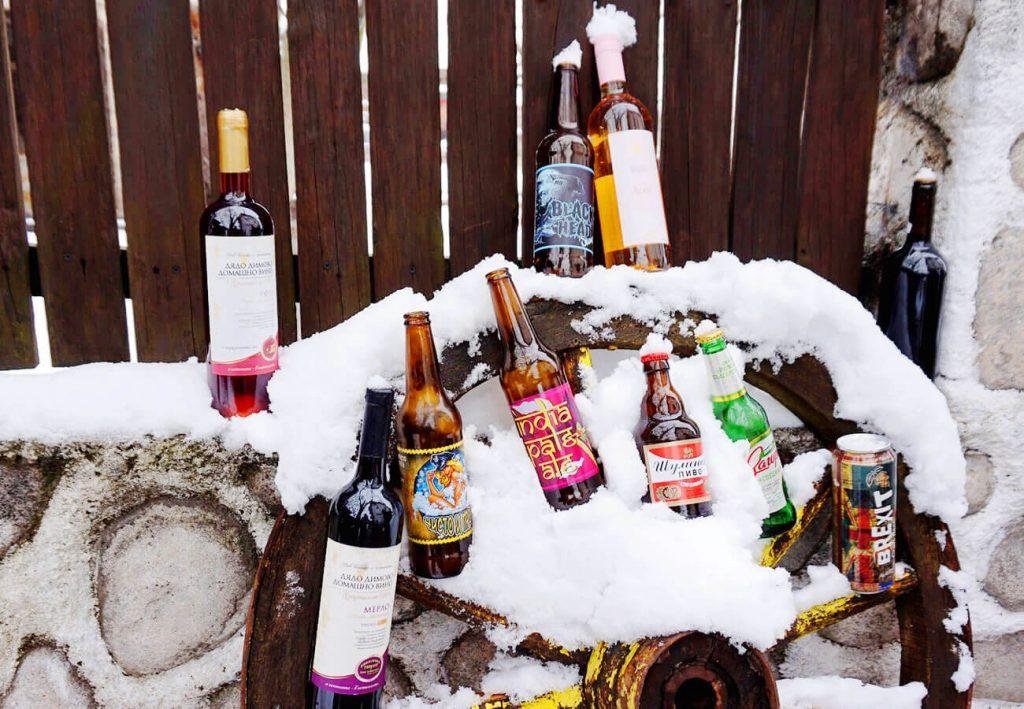 Next is recycling. This is one of the easiest to implement by simply encouraging all our staff and guests to sort and recycle their waste. Inevitably we end up with single-use plastics which we cut down and fill tightly into plastic bottles creating plastic eco-bricks that are going towards a building project. Similarly, food waste goes to local pigs and chickens ensuring we fill landfills with as little as possible.
A few more no-brainers, everyone is encouraged to save energy by switching off lights, radiators, and appliances when not needed (signs up all over the chalets). Operating with a paperless booking system making life simpler and saving trees in the process. Where we can, we use natural, environmentally friendly, and paraben-free cleaning products which cause less harm to the environment compared to other products on the market. Finally, with efficient chalet heating and bio hot water systems in place, it helps us to maintain the perfect in-house temperature with minimal burning of natural resources.
Finally offsetting carbon which we believe all in our industry should be pushing towards. This season, we're working closely with Carbon Footprint to offset all our operations and all those of our guests, including all return flights. In addition to this, we are currently gearing up for our very own tree-planting project that will take place at the end of this season. The project will happen in Bulgaria local to the chalets to push us into being climate positive whilst actively contributing to the UNESCO heritage site that gives us so much.
Whilst we understand that some of the above may be difficult to implement in larger industry we strongly believe that it's essential that tourism companies adapt to facilitate climate change and that those looking to ski responsibly seek out smaller more ethical companies.